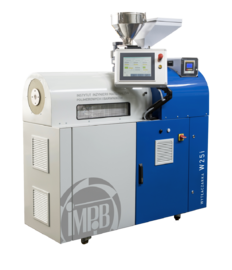 Mini extruder W25i
The heating system of the W25i extruder uses the phenomenon of electromagnetic induction, which allows the temperature of the plasticizing system and the extruder head to reach 650°C in a very short time (10-20 min). The solution proposed by the Institute allows the processing of thermoplastics above 400°C, which cannot be processed on standard extruders. The presented extruder gives new possibilities in the field of processing and production of polymer products with operating temperatures above 200°C.
The designed heating device uses inductors for three heating zones. Each zone is powered by a separate medium frequency generator, each generator is controlled by a separate temperature controller with a temperature sensor coupled to the zone. The first and second inductors, powered by separate generators, were placed on the cylinder of the device, and the third inductor on the head. The device is equipped with, among others with a 7.5 kW main drive electric motor with a PTC sensor, a frequency converter and a freely programmable controller with a touch panel (10 ").
(T1, T2- cylinder heating zones, T3- head heating zone).
The W25i single-screw extruder is a universal device that enables the processing of both traditional thermoplastics and special polymer materials (PEEK, PPS), which cannot be processed using standard extruders. The use of a highly efficient, innovative heating system that uses the phenomenon of electromagnetic induction allows for a significant reduction in the heating time of the cylinder and the extrusion head, compared to traditional solutions, and at the same time ensures high stability of the extrusion process.
Inquiry system
Configure your own product according to your requirements and needs. If you are unsure of the configuration, provide us in the notes the necessary information about the existing sensor or product, even a competitor. We will be happy to help you find an alternative IMPIB products. If your request is urgent, let us know. We will do our best to help you resolve this situation to your satisfaction as quickly as possible. If we have all the information, we are able to offer a model with minor differences.
If you need more information do not hesitate to contact us.
Configuration code