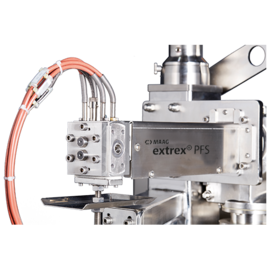 extrex® PFS – 20GP
The extrex® PFS gear pumps are specially designed for applications in the pharmaceutical industries. Such applications require specific design characteristics: high discharge pressure capability, constant throughput, gentle conveying, and narrow temperature ranges. In such an environment, the proven extrex® gear pumps unfold their full potential.
Inquiry system
Configure your own product according to your requirements and needs. If you are unsure of the configuration, provide us in the notes the necessary information about the existing sensor or product, even a competitor. We will be happy to help you find an alternative MAAG products. If your request is urgent, let us know. We will do our best to help you resolve this situation to your satisfaction as quickly as possible. If we have all the information, we are able to offer a model with minor differences.
If you need more information do not hesitate to contact us.
Configuration code
Technical data
Technical data

extrex®

20 GP

extrex®

21 GP

extrex®

22 GP

extrex®

28 GP

extrex®

36 GP

Specific volume [cm 3 / U]:

1,3

2,8

4,7

10.2

25,6

Differential pressure Δp:

max. 250 bar

max. 250 bar

max. 250 bar

max. 250 bar

max. 250 bar

Temperature range:

30° to 200°C

30° to 200°C

30° to 200°C

30° to 200°C

30° to 200°C

Viscosity:

do 30 000 pas

do 30 000 pas

do 30 000 pas

do 30 000 pas

do 30 000 pas
SELECTION OF TYPICAL PUMPED MEDIA
| | |
| --- | --- |
| | Production of micropellets to prevent grinding |
| | Combination of carriers and active nutrients with high viscosity |
| | Application of co-extrusion for uniform layer thicknesses |
| | Process monitoring using pressure sensors and temperature sensors |
| | For extrusion from an extruder or reactor vessel |
| | Silicones |
| | Waxes and paraffins |
| | Emulsifiers |
| | Rubber |
CERTIFICATES
| | |
| --- | --- |
| | ATEX certificate |
| | 3.1 certifiká |
| | German Air Quality Certificate (TA-Luft) |
| | Performance test certificate |
OPTIONS
| | |
| --- | --- |
| | Electric heating |
| | Heated product flanges |
ACCESSORIES
| | |
| --- | --- |
| | Stands, motor flanges and base plate |
| | Flanges for connecting the product |
| | Couplings |
| | Motors and reducers |
| | Frequency converters |
| | Shaft sealing systems (with expansion tanks) |