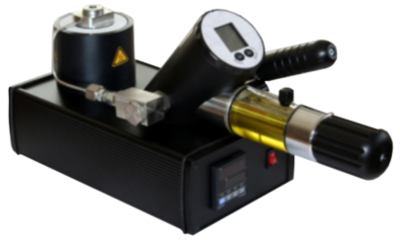 PPS1210 calibration pump
The PPS1210 pressure calibration pump with heated pressure port enables fast and accurate inspection of melt pressure sensors directly in the laboratory or directly in the factory. Thanks to its compact dimensions, it is easily portable. To check the sensor, it is necessary to install it in the mounting hole M18x1.5 or with the help of an adapter to the 1 / 2-20 "UNF port. Thanks to the screw system for pressure generation, it is very easy to create a load of up to 700 bar. C.
Data from the tested sensor can be transferred via cabling to your PC and create protocols or checklists for individual sensors. The pressure calibration pump is delivered in an aluminum case with a foam insert.
PERFORMANCE CHARACTERISTICS
| | | |
| --- | --- | --- |
| | Construction: | Robust but easily portable |
| | Weight: | |
| | Accuracy: | |
| | Battery life: | more than 200 days |
| | Process connection: | standard M18x1.5 optional adapter 1/2 "-20 UNF-2A |
| | Pressure range: | 0 - 700 |
| | Maximum port temperature: | up to 400 ° C |
| | Pressure selectors: | bar / PSI /kPA |
| | Sensor power supply: | Built-in 10 - 24 VDC |
| | Dimensions: | 440 x 153 x 300 mm |
| | Amount of oil: | 57 ml (minerální olej) |
| | Output signals: | 0-5 VDC, 0-10 VDC, 3.33mV/V, 4-20mA |
Pump diagram: