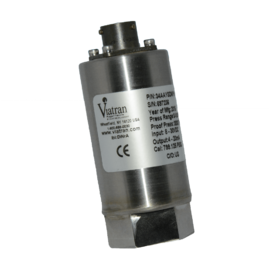 Model 34A Pressure Transmitter
Viatran's 34A is one of our most versatile pressure transducers for industrial applications. The 34A measures from 3 PSI to 5000 PSI (0.2 to 345 bar) with standard linearity of ≤±0.25% FSO. Improved linearity of ±0.15% or ±0.10% FSO are available as options. The Model 34A has an 4 - 20 mA Output Signal as standard.
Typical Applications:
• Engine test stands
• Production test stands
• Hydraulic
• Compressors & Pumps
• Rolling mills
• Die Casting
Contact our Application Engineers today to customize this unit to meet your specific needs.
PERFORMANCE
Full Scale Pressure Ranges:

0-3 thru 5000 PSIG (PSIS FOR >500 PSI) (0.2 thru 345 bar)
0-15 thru 0-5000 PSIA (0-1.0 thru 0-345 bar)
0-15 PSIV (0-1.03 BarV)

Nonlinearity (Best Fit Straight Line)

Hysteresis & Repeatability

≤±0.10% FSO

Full Scale Output (FSO)

16 mA at 70°F (21°C) ±1.0% FSO

Resolution

Infinite

Long Term Stability

≤±0.3% FSO per 6 months

Compensated Temperature Range

70°F to 170°F (21°C to 77°C)

Process Media Temperature Range

-40°F to 250°F (-40°C to 121°C)

Ambient Operating Temperature Range

-40°F to 185°F (-40°C to 85°C)

Storage Temperature Limits

-40°F to 250°F (-40°C to 121°C)

Temperature Effect on Zero

≤±2.0% FSO per 100°F

Temperature Effect on Span

≤±2.0% FSO per 100°F
ELECTRICAL
Supply Voltage:

Output Signal

4 to 20 mA

Zero Adjustment

±5% FSO min

Circuit Protection

Input polarity may be reversed. Output may be short-circuited indefinitely Over voltage protection to 1000 volts according to EN61000-4-

Insulation Resistance

<5 nSec to case ground

Response Time

<2 mSec to reach 90% of full scale

RFI / EMI Suppression

CE EMC compliant per IEC EN 61326. CE marked

Electrical Connection

Bendix PT02E-10-6P, mates PT06E-10-6S (SR)

Wire Color Code

Pin A + Power / Signal
Pin B - Power / Signal
Pin C No connection
Pin D No connection
Pin E No connection
Pin F No connection
Shell Groun
MECHANICAL
≤500 PSI (35 bar) 3 times range or 1,200 PSI (80 bar) max
>500 PSI (35 bar) 3 times range or 9,000 PSI (620 bar) ma

Burst Pressure
≤500 PSI (35 bar) 5 times range or 2,400 PSI (170 bar) max
>500 PSI (35 bar) 5 times range or 10,000 PSI (700 bar) ma
Pressure Cavity Volume

≤500 PSI (35 bar) 1.5 ml
>500 PSI (35 bar) 1.5 m

Mounting

May be supported by process pipin
MATERIALS OF CONSTRUCTION
| | | |
| --- | --- | --- |
| | | |
| | Housing | 304L SS |
| | Identification: | |
| | Weight: | 10 oz (283 g) |
DIMENSION