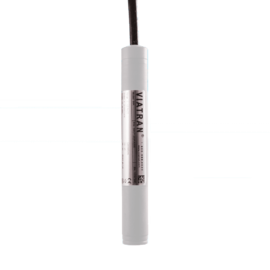 Model 59K Level Transmitter
The Model 59K PP-HT Slim Submersible Level Transmitter has a .830" diameter PP-HT housing and ceramic sensor. Polyurethane cable is standard. Different cable materials and o rings are available.
Use it to measure Liquid Level and Depth for Water and Waste Water applications, Lift Stations, Reservoirs and Dams, Rivers, Holding Ponds, Wells, In-ground / Above Ground Tanks and with Inventory Tank Gauging.
Viatran also offers a complete range of accessories for use in level applications such as a surge protector, cable hangers and weights, meters and junction boxes.
PERFORMANCE
| | | |
| --- | --- | --- |
| | Pressure Ranges | 0-20 Feet W.C. to 0-670 Feet W.C. |
| | Combined Accuracy (Non-Linearity, Hysteresis, Repeatability) | ≤±0.50% FSO |
| | Compensated Temperature Range | -13° to 158° F (-25 to 70° C) |
| | Operating Temperature Range | 14° to 122° F (-25 to 50° C) Note: Medium must not freeze near sensor |
| | Storage Temperature Range | -13° to 122° F (-25to 50° C) |
| | Thermal Effect on Zero | ≤±0.23% FSO per 100° F |
| | Thermal Effect on Span | ≤±0.23% FSO per 100° F |
ELECTRICAL
| | | |
| --- | --- | --- |
| | Output Signal | |
| | Supply Voltage | |
| | Power Supply Regulation | |
| | Circuit Protection | Reverse polarity protected, CE marked |
| | RFI/EMI | CE EMC cmpliant as per IEC EN 61326 |
| | Voltage Spike Protection | Withstand 1000 volt spike per EN 61000 |
| | Response Time | <10mSec |
MATERIALS OF CONSTRUCTION
| | | |
| --- | --- | --- |
| | | |
| | | |
| | Cable | PUR, PVC, or FEP (customer must specify) |
| | Seals | FKM |
| | Removable Protective Cap | POM (Polyoxymethylene) |
MECHANICAL
| | | |
| --- | --- | --- |
| | Pressure Connection | Removable Protective POM Cap |
| | Ingress Protection | |
| | Overpressure Limit | |
| | Weight | 0.25 lbs. (without cable) |
OPTIONS
| | | |
| --- | --- | --- |
| | EA | |
| | PW | Calibrate item with meter/display |