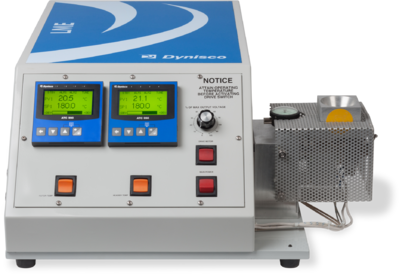 LME - Laboratory Mixing Extruder
LME - Laboratory Mixing Extruder. This small mixing extruder is very popular especially for development laboratories, because it is able to work with only a minimal amount of material in the order of grams. It allows to test the properties of the material before processing in large extruders. The special rotating design allows very easy cleaning and thus saves your time.

LME can process various types of polymers from powders to conventional granules. The use of rotary extrusion for this amount of material to be processed ensures perfect mixing of the material to be processed. An optional accessory for this mini extruder is sample extraction, which guarantees uniform dimensions of the extruded samples as well as optimal cooling. Another optional accessory is a granulator that works on a rotary basis. Thanks to the granulator, the extruded samples can be quickly and efficiently converted into granules without the influence of temperature.

PERFORMANCE CHARACTERISTICS
| | | |
| --- | --- | --- |
| | Dimensions: | |
| | Standard head included: | 1/8 (0.312 cm) dia. hole (replaceable) |
| | Mass: | |
| | Hopper water cooling: | 1 gal / hour Water (3,785 L / h) |
| | Power supply: | 230V, 50Hz/120V, 60Hz |
TUS - Take Up system is a multi-purpose towing device. It can pull and wind extruded fibers with a very small diameter onto a spindle or pull larger diameters through a pair of rollers. Pick-up wheels can also be used with an optional finish. In all cases, the speed of the system can be adjusted to match the extrusion speed and provide the desired fiber / string diameter or film width. This system can also be used as guide rails that transport the extruded material to the granulator.
The granulator pellets the extrudate from the extraction system. The extrudate is fed into the opening of the granulator by means of the guide rails of the extraction system. The size of the granulate is determined by the feed rate into the granulator.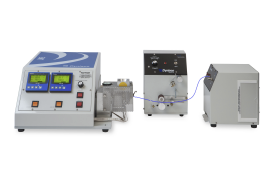 Use and application:

■ Polymers and rubbers
■ Granulation
■ Shape extrusion
■ Formation of polymer mixtures
■ Foil creation
■ Fiber formation
■ Sheathing creation
■ String formation
Use and application:

■ Stabilizers
■ Fillers
■ Plasticizers
■ Flame retardants
■ Pigments
■ Antioxidants
■ Pharmacy
■ Additives


Certification Approval

| | |
| --- | --- |
| | |
| | |
| | EAC - The Eurasian Conformity mark |
| | |
| | |
| | |