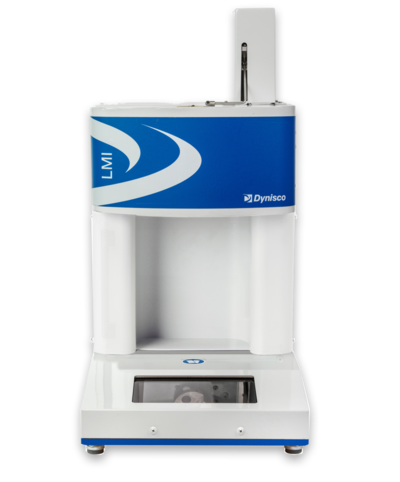 Melt Flow Indexer LMFI55-2NENNNN
This LMFI5500 series Melt Flow Indexer allows the measurement of most rheological parameters of thermoplastics including IV for PET. The LMFI 5500 series is one of the most accurate equipment of the type in the world. The intuitive controls make it easy to use, it has an expert mode for experienced operators that significantly speeds up the measurement process, and sophisticated features and technologies ensure the highest possible measurement accuracy. Gravity correction and dual zone heating not only meet but exceed the requirements of the latest ISO1133-2 valid standard. This model is perfect for quality control in a laboratory, institutes or universities where accuracy really matters. Try the LMFI 5500 and get a reliable and accurate instrument that will allow you to improve the quality of your products.
It will surprise you with its user-friendly environment and easy maintenance, while keeping maximum precision. In addition, if you later decide to expand your equipment, our service technicians will simply install the necessary modules on your site. With the LMFI 5500 you are absolutely guarantee of accurate and reliable results. Training and consultation are included in the price. However, if you would still miss something, you have online technical assistance and the option of accredited calibration or pre-paid service.
The Dynisco LMFI 5500 series capillary Melt Flow Indexer have an optional configuration and can be ordered as a retrofit at any time.
Dynisco IoT Cloud Console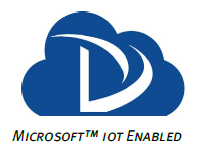 Developed for processors to simply obtain detailed analytics and provides the ablility to correlate laboratory and production
rheological instruments for all devices globally on one single cloud dashboard and see any instrument around the world in real-time 24 hours a day, 7 days a week, 365 days a year.
Digital Encoder
The Digital Encoder provides a high precision measurement of piston displacement during Method A/B and B tests.
Automatic Sample Cutter
Cuts samples automatically at defined cut times of Method A and Method A/B Testing. Will also cut sample at end of pre-heat melt time of a test, regardless of method. Leads to more consistent sample cutting than cutting by hand.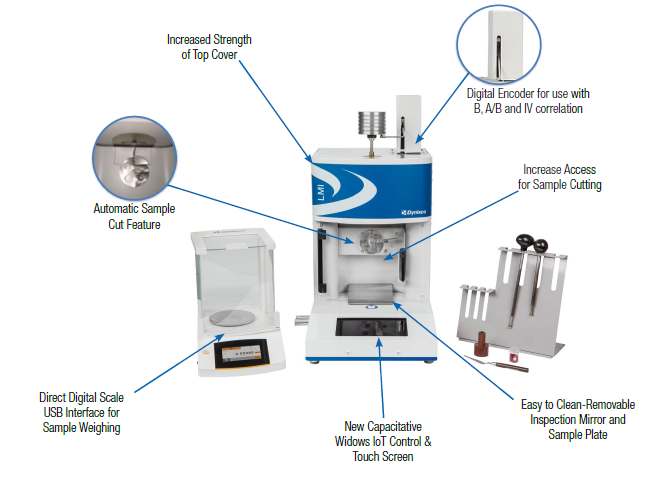 Provided results
| | |
| --- | --- |
| Melt flow index: | MFR - Melt Flow Rate [g/10min] |
| Melt flow index: | MVR - Melt Volume Rate [ccm/10min] |
| Melt density: | MD - Melt Density [g/ccm] |
| Intrinsic viscosity (PET): | IV - Instristic viscosity [dl/g] |
| Shear Viscosity: | Shear Viscosity [Pa.s] |
| Shear rate: | Shear Rate [1/s] |

Performance parameters
Meets standards:
ISO1133-1, ISO1133-2, ASTM D1238 & D3364, BS2782, DIN 53735, JIS K7210
Operating temperature:
Max. 400°C
Temperature control accuracy:
±0.10°C
Timer accuracy:
0.001 s
Accuracy of digital encoder:
±0.025mm
Display:
7" touch screen; 130° viewing angle ; 800 x 480 resolution
Weights:
Aluminum, Stainless or Plated Steel 0.325 to 31.6 Kg
Communication:

- 4x USB Port
- Connectivity for PC
- Connectivity for printing
- Storage on USB Flash Drive
- Built-in WIFI and Ethernet

Gravity correction:
YES
Expert Mode:
YES
Optional colour scheme:
YES
Dynisco Cloud:
YES
Dynisco Service Care:
YES
Adjustable PID control:
YES

Other parameters
| | |
| --- | --- |
| Overall Dimensions, Base Model: | 13W x 21D x 20H in. (33W x 53D x 51H cm) |
| Weight, Base Model: | 47 lbs. (21.3 Kg) |
| Shipping Weight, Base Model with Weights: | 180 lbs. (81.8 Kg) |
| System Voltage: | 100-120Vac 50/60Hz or 220-240Vac 50/60Hz, 500VA, + 5% , 1 single phase |
| Power: | 500W max., 100W typical at set point |
Certification & Approval
| | |
| --- | --- |
| | EU Declaration of Conformity |
| | |
| | EAC - The Eurasian Conformity mark |
| | |
| | |
| | |