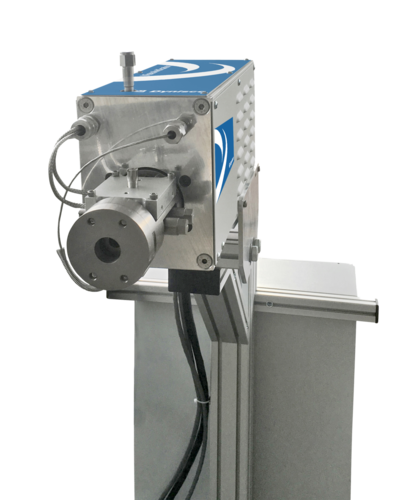 ViscoIndicator
Designed specifically for the thermoplastics industry, the ViscoIndicator provides continuous melt flow, apparent or intrinsic viscosity measurements directly on the production line.
The ViscoIndicator online rheometer duplicates the test conditions of a laboratory Melt Flow Rate (MFR) tester or capillary rheometer. Melt viscosity measurements such as melt flow rate and Intrinsic viscosity are primary specifications of thermoplastic resins. MFR and melt viscosity are related to polymer molecular properties so these numbers give some measure of the physical properties of their product as well as polymer processability. The ViscoIndicator has a look and feel that will be familiar to most shop personnel.
Why is this important – it lowers the training time to become effective in measuring the rheological properties of your polymer process. This along with the ease of connection gets you up in running in the minimal amount of time.
THE VISCOINDICATOR RSU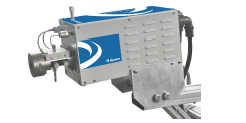 A Rheological Sensing Unit (RSU) that connects directly to the process and samples, conditions, and measures the properties of the resin. It can be mounted on extruders, reactors, or molten polymer transfer lines in various orientations. It uses a metering pump to isolate it from the process, to di-rect the molten polymer across interchangeable capillaries, and discharge a minimal amount of material at a rate of approximately 0.5lb/hr (0.2kg/hr). A three wire platinum RTD is used to control and measure the tem-perature of the molten polymer. A Vertex Mercury Free pressure transducer mounted directly before the capillary die is used to capture the pressure drop.

VISCOINDICATOR HUMAN MACHINE INTERFACE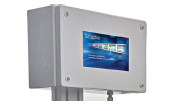 The Human Machine Interface (HMI) remotely manages test parameters and provides measured and computed material properties. It provides rheologi-cal data similar to a Laboratory Capillary Rheometer or MFR readings similar to a Melt Flow Indexer.

Optional Process Adapters for Easy Mounting
Allow us to customize the connection to a customer's specific needs



VISCOINDICATOR iRCU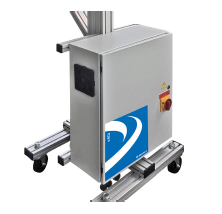 A Rheological Control Unit (iRCU) that controls the measurement parameters (temperature, pressure, flow rate), and provides communications to an HMI. This combination provides the system with processing power and hi-end graphics allowing the iRCU to provide +/- 2% Full Scale Accuracy. Th iRCU provides the processor the ability to measure Melt Flow Ratio, Relative Viscosity, Intrinsic Viscosity, and Melt Viscosity in typical end-user environments. All of which create a cost-effective system that reduces the risk of failure to an acceptable level. The ViscoIndicator controls are based on an industry standard Windows 10 IoT. External connectivity can be accomplished through Ethernet, Wireless Connection to Windows 10 computers, or USB. A color touch screen, local human-machine interface (HMI) is standard. The HMI allows for the calibration and configuration of the system and is typically housed in a separate enclosure located within a distance of 10 meters from the iRCU, with an interconnecting cable.
Performance Characteristics
Melt Flow Index Range
0.1 to 25,000 g/10min
(With Melt Density of 0.75g/cc and 2.16Kg test load)
Viscosity Range
10 – 105 Pa.S (Applicable Shear Rates Vary with Viscosity)
Intrinsic Viscosity Range
0.2-5.0
Shear Rate
0.1 to 25,000 sec-1
Shear Stress
2.9 x 103 – 1.95 x 105 Pa
Temperature Range
40 – 350°C
Pressure Range
3 x 105 – 3.5 x 107 Pa
Max Process Temperature
350°C
Material Geneaology Output

Provides full lot traceabilty of rheological data from start to finish of your process. Data is available real time via HMI (running number or historical trend graph), with ability to export historical data via CSV file

Pump Speed Range
1 to 60 RPM
Brushless Servo motor with resolver feedback
Physical Dimensions
| | |
| --- | --- |
| ViscoIndicator RSU (HxWxD): | 20" x 6" x 8 " (508mm x 152mm x 203mm) |
| ViscoIndicator IRCU (HxWxD): | 24" x 12"x 8" (610mm x 305mm x 203mm) |
| ViscoIndicator HMI Screen (LxH): | 7" diagonal: 6.2" x 3.5" (157.5mm x 89mm) |
Electrical Specifications
System Voltage
220-240 VAC, single phase, 50/60 Hz-standard1
Power Requirements
1,500 W
Maximum Distance from iRCU to Rheometer Sensing Unit (RSU):
Standard cable: 2.5" (up to 100m available)
The interconnecting cables required for the ViscoIndicator for longer distances are included in the options and accessories section of this quotation.
NOTE: Maximum distance between the HMI and the IRCU is 10 meters.
HMI/Display :
NEMA 3, IP20 Enclosure1
External Connections
| | |
| --- | --- |
| Digital Output | Fault and Warning (Dry Contact) |
| Digital Input | Remote Start (24VDC) & Emergency Stop |
1 Consult factory for other options avaliable
Diagram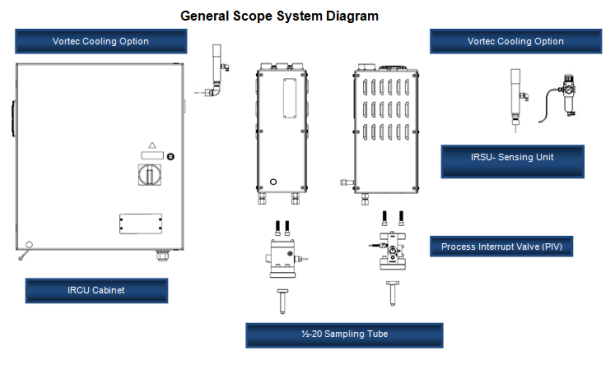 Certification Approval
| | |
| --- | --- |
| | |
| | |
| | EAC - The Eurasian Conformity mark |
| | |
| | |
| | |