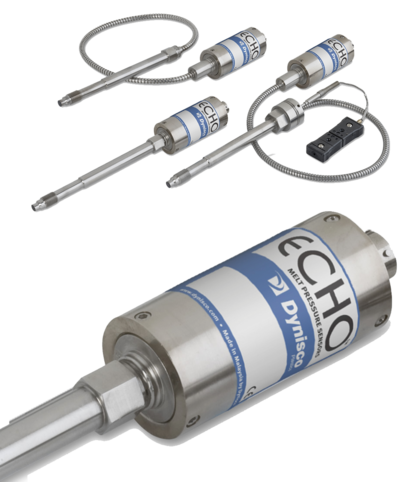 ECHO Series
Dynisco's Echo Series offers quality performance through the use of standard configurations and pressure ranges. Echo pressure transducers are designed to meet customer requirements, provide a combination of economical choice and good performance for extrusion applications, while providing ± 0.2% repeatability when measuring process pressures. Echo sensors are the ideal choice for all processes and applications requiring measurement for optimized control.
Dynisco has been manufacturing pressure sensors for more than 60 years. The entire range is backed by a two-year full warranty. The membrane of ECHO sensors is coated with titanium, aluminum, nitride, already in the standard version, which offers better performance than less effective coating of aluminum titanium.
Dynisco technology is very popular with all OEMs and end users around the world. The Echo series is available with 3.33mV / V, 4-20mA, 0-5VDC or
0-10VDC outputs designed to work with most industrial controls. In addition to measuring melt pressure, the Echo series offers optional melt temperature measurement with J, K or RTD thermocouples. The Echo series is equipped with a 1 / 2-20 UNF or M18 thread for mounting in standard mounting holes. Additional mounting configurations are available.
Performance Characteristics
Pressure Ranges:

100 bar up to 700 bar
1500 PSI up to 10000 PSI
10 Kg/cm2 up to 700 Kg/cm2
10 MPa up to 700 MPa

Accuracy*:

Overload Pressure Rating:

Repeatability:

± 0.2 FSO

Material in Contact with Media:

17-4 PH SST

Sensor connection:

1/2"-20 UNF , M14x1.5 , M18x1.5 , M22x1.5

Mounting torque:

25 Nm - 55 Nm

Burst Pressure:

6x pressure range max. 3000 bar

Sensor construction:
Sensor with rigid stem
Sensor with rigid stem and flexible stem
Combined sensor with rigid stem, flexible stem and built-in temperature sensor
TEMPERATURE CHARACTERISTICS
| | | |
| --- | --- | --- |
| | Max. membrane temperature: | |
| | Zero shift (due to temperature): | |
| | ------------------------------------------- | ------------------------------------------------------------------ |
| | Max. sensor body temperature: | 120°C |
| | Zero shift (due to temperature): | 0.2 % f.s.v./10°C |
| | Shift sensitivity (due to temperature): | 0.1 % f.s.v./10°C |
ELECTRICAL CHARACTERISTICS
mV / V: 10 Vdc recommended, 12Vdc max
VDC: 16a-30Vdc mA: 14-30VDC

3.33mV/V, 0-10Vdc or 4-20mA

mV/V: - ; VDC: ±15%; mA: ± 20% f.s.v

Connector:

6 Bendix PIN connector

Leakage Resistance:

mV/V: 1000 MΩ @50VDC; Vdc, mA: 100 MΩ @50VDC

Internal Shunt Calibration:

80% f.s.v ±1.0%
SENSOR DIMENSIONS: