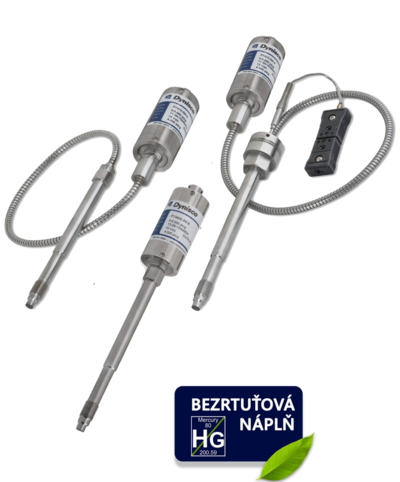 MDA 410 | 412 | TDA 412 (NaK)
The MDA 410 series is the ideal choice for the food and pharmaceutical industries. The sensors are filled with mercury-free NaK (potassium sodium) and meet FDA and USDA requirements. The combination of NaK filling and Inconel membrane enables accurate pressure measurement in processes with temperatures up to 530°C. The sensors are characterized by their excellent repeatability and reliability. It is supplied with a connection to the 6-pin Bendix connector for easy handling. MDA 410 is the most used mercury-free pressure sensor with mV/V output signal. The version with temperature sensor can be found under the designation TDA 412.
All sensors in this series can be configured according to your needs. Contact us, we will be happy to help you.

PERFORMANCE CHARACTERISTICS
Pressure range:

0 - 35 bar to 0 - 700 bar

Accuracy:

± 0.5% of range (including linearity, repeatability and hysteresis)

Overload capacity:

2x pressure range for range 1000 and 1400 bar max. 1750 bar and max. 2400 bar for range 2000 bar

Repeatability:

±0.1% f.s.v

Material in Contact with Media:

Inconel 718

Sensor connection:

1/2 "-20 UNF-2A or M18 x 1.5

Mounting torque:

25 Nm - 55 Nm

Burst Pressure:

6x pressure range max. 3000 bar

Sensor construction:
MDA 410 - Sensor with rigid stem
MDA 412 - Sensor with rigid stem and flexible stem
TDA 412 - Combined sensor with rigid stem, flexible stem and built-in temperature sensor
TEMPERATURE CHARACTERISTICS
| | | |
| --- | --- | --- |
| | Max. membrane temperature: | |
| | Zero shift (due to temperature): | |
| | ------------------------------------------- | ------------------------------------------------------------------ |
| | Max. sensor body temperature: | 120°C |
| | Zero shift (due to temperature): | ±0.2% f.s.v./10ºC |
| | Shift sensitivity (due to temperature): | ±0.1% f.s.v./10ºC up to 50 bar ±0.2% f.s.v./10ºC |
ELECTRICAL CHARACTERISTICS
| | | |
| --- | --- | --- |
| | | |
| | | |
| | | |
| | Connector: | 6 Bendix PIN connector |
| | Leakage Resistance: | 1000 MΩ při 50Vdc |
| | Strain Resistance: | 350Ω |
| | Internal Shunt Calibration: | 80% f.s.v. ±0.5% |
SENSOR DIMENSIONS: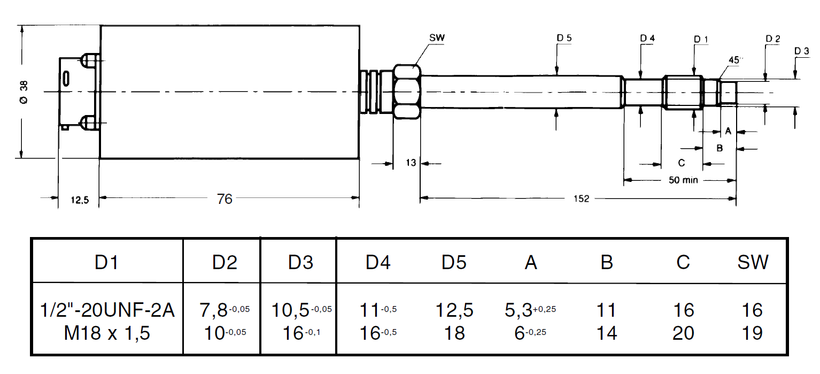 CONNECTOR WIRING DIAGRAM: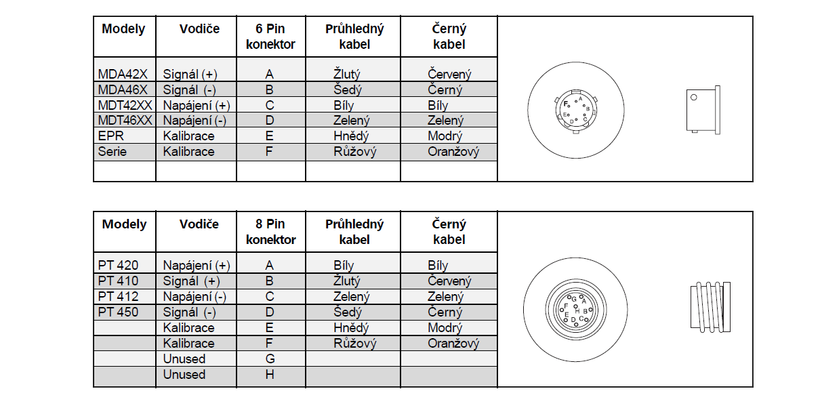 Certification Approval
| | |
| --- | --- |
| | |
| | |
| | EAC - The Eurasian Conformity mark |
| | |
| | |
| | |
| | |
| | |
| | |