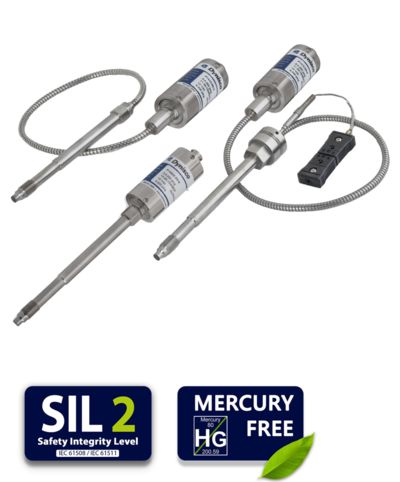 PT 410 | PT412 | TPT412 (NaK)
The PT410 Series Sensor is a ± 0.50% precision sensor that is ideal for food or medical applications requiring high accuracy, ease of installation, repeatability and reliability. The NaK filling material meets the requirements set by the FDA and USDA for production in contact with food and medical products.
The PT410 Series sensors provide an industry standard 3.33 mV/V signal that is designed to work with most pressure indicators. The PT410 is equipped with an eight-pin Bendix connector. Thermocouples or RTD configurations are available to provide temperature and pressure at a single point. PT410 is equipped with a UNF 1/2-20 thread for mounting in standard mounting holes.
PERFORMANCE CHARACTERISTICS
Pressure range:

Accuracy:

± 0.25% FSO, (full sensor range) Including linearity, repeatability and hysteresis ± 0.5% FSO for ranges 500, 750, 1,000 psi)

Overload capacity:

Repeatability:

± 0,1% FSO

Sensor diaphragm:

Inconel 718

Sensor connection:

1/2"-20 UNF-2A or M18 x 1.5

Mounting torque:

500 inch/lbs. maximum

Sensor construction:
PT 410 - Sensor with rigid stem
PT 412 - Sensor with rigid stem and flexible stem
TPT 412 - Combined sensor with rigid stem, flexible stem and built-in temperature sensor
TEMPERATURE CHARACTERISTICS
Max. membrane temperature:

540°C

Zero shift (due to temperature):

-------------------------------------------

------------------------------------------------------------------

Zero shift (due to temperature):

121°C

Zero shift (due to temperature)

± 0.02% FS/°C max

Displacement sensitivity (due to temperature)
± 0.01% FS/°C max
± 0.02% FS/°C max
pro 500, 750, 1,000 psi rozsahy
ELECTRICAL CHARACTERISTICS
| | | |
| --- | --- | --- |
| | | |
| | | |
| | Zero setting: | |
| | Connector: | 8 Bendix PIN connector |
| | Insulation resistance: | 1000 megohms @ 50 Vdc |
| | Resistance calibration (R-Cal): | 80% of duty. range |




Certification Approval
| | |
| --- | --- |
| | |
| | |
| | EAC - The Eurasian Conformity mark |
| | GOST Approval |
| | |
| | |
| | |
| | |
| | |