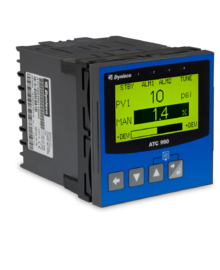 ATC990 Process Controller
The ATC 990 with graphic / text LCD display is a universal input controller with advanced functions including trend display, digital inputs, data logging and USB port. It provides a cost-effective way to control process parameters, for example for extrusion applications. Designed to increase efficiency and user comfort, it includes features that reduce commissioning time, simplify operation and minimize maintenance downtime. Automatic tuning, setting of external power supply alarms, various inputs (temperature / pressure).
The ATC 990 can also operate and control the process based on differential pressure if the optional mv / v input is used. Other useful information displayed directly on the top of the controller by means of LEDs is alarms, upper or lower limits, error states and beacons of engineering units. The control unit provides quick and easy setup, which includes a step-by-step setup wizard that starts automatically the first time it is started.
An optional 24 V DC power supply is also available.
Performance characteristics:
Device type:

Digital closed loop PID controller for panel mounting

Display:

160 x 80 monochrome graphic LCD display with backlight

Thermocouple:

± 0.1% of full scale,

± 1LSD (± 1 ° C for indoor CJC, if allowed)

DC Linear:

± 0.1% of full scale, ± 1LSD

Sampling time:
50mS, typical
Controller inputs:
| | | |
| --- | --- | --- |
| | Input: | Strain gauge, thermocouple or linear (Vdc, mA) |
| | Strain gauge: | 350 to 5000Ω, 1.4 to 4mV / V, excitation 10V ± 7% |
| | | 0 to 5Vdc and 0 to 10Vdc, 0 to 20mA and 4 to 20mA |
| | Input signal: | -25 to 125% in full range (approximately -10mV to + 50mV) |
| | Input impedance: | <10 Ω for linear current input, 165kΩ for linear voltage input |
| | Short circuit calibration: | With or without resistance (40 to 100% of range) |
| | Digital: | - 25% to + 125% of full scale (approximately -10 mV to +50 mV) |
| | Calibration: | 4 programmable voltage-free closing of contacts |
Alarm outputs:
| | | |
| --- | --- | --- |
| | | SPST 2A max @ 240Vac resistive load Two relays have a common share |
| | | |
| | Alarm update time: | |
Controller outputs:
| | | |
| --- | --- | --- |
| | | 0-5Vdc and 0-10Vdc, 0-20mA and 4-20mA |
| | Type (control): | 0-5Vdc and 0-10Vdc, 0-20mA and 4-20mA |
| | | |
| | Accuracy:: | 0.1% output range (mA @ <500Ω, V @> 500Ω) |
| | Standards and certifications: | CE. Pollution degree 2, installation of category II "UL Listed" |
Control functions:
| | | |
| --- | --- | --- |
| | | Adaptive auto-tuning algorithm Serial communication interface |
| | | |
| | Protocol: | Modbus RTU |
Controller communication:
Mechanical characteristics:
| | | |
| --- | --- | --- |
| | | Using the screw on the back |
| | | IP65 with seal (front USB connector IP65) |
| | Operating temperature: | 32 to 122 ° F (0 to 50 ° C) |
| | Storage temperature: | - 4 to 158 ° F (-20 to 70 ° C) |
| | Humidity: | 85% relative humidity, non-condensing |
| | Weight: | 1,43 libry. (650 g) |
Approval and certification:
| | | |
| --- | --- | --- |
| | | Own certification according to valid standards |
| | | |
Indicator power supply:
Network power consumption:

100 až 240Vac, 50 / 60Hz přepínání

20 to 48 Vac 50 / 60Hz 25VA or 22 to 65Vdc 12W

Power consumption:
15VA, max

Transmitter power supply:

24Vdc up to 400Ω min, 60mA drive for 2 or 4-wire mA transmitters
DIMENSIONS: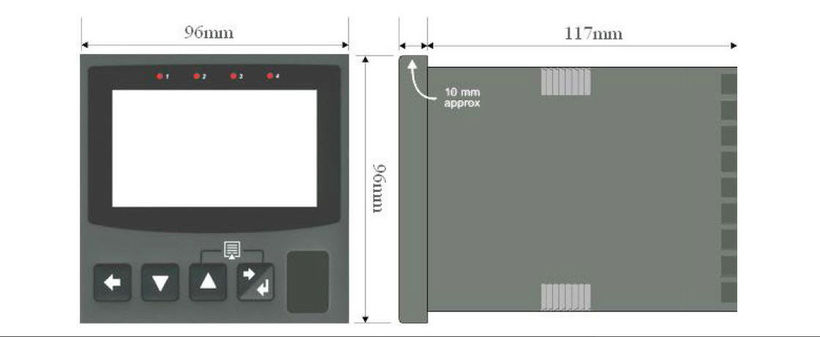 DIAGRAM: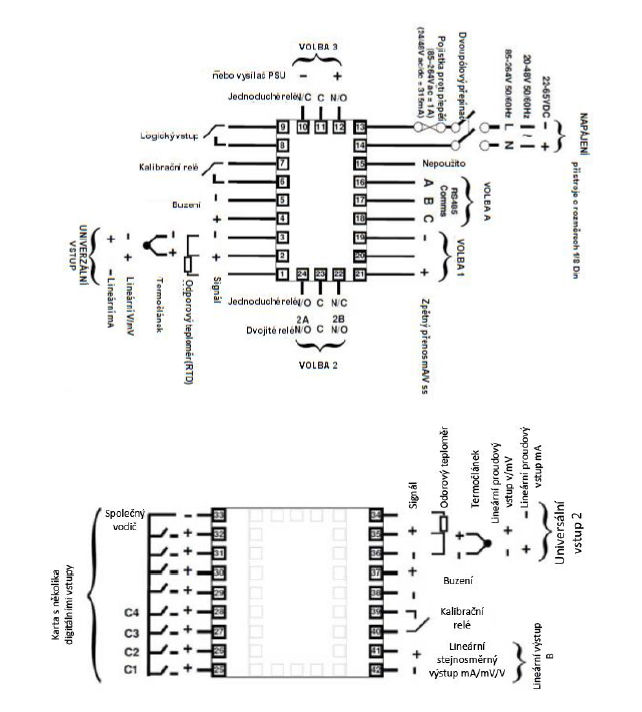 Certification & Approval
| | |
| --- | --- |
| | |
| | |
| | EAC - The Eurasian Conformity mark |
| | GOST Approval |
| | |
| | |
| | |
| | |
| | |