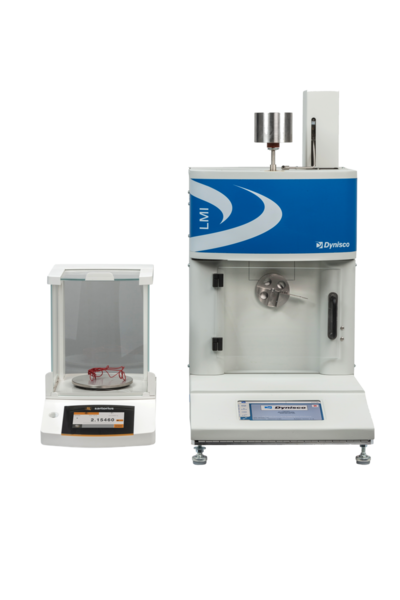 Melt Flow Indexer LMI 5000
The LMI is a cultivation of feedback from customers incorporating a series of key features and options: Color Touch-Screen Display incorporating a user friendly menu structure, USB communications, pneumatic weight lift system with stackable weights, a force packer, higher accuracy digital encoder, software and NEW! auto cutter option. The LMI is capable of delivering a wide range of data that includes not only melt index values, but also shear stress, shear rate, apparent viscosity, intrinsic viscosity and melt density, as well as testing conditions. The addition and improvements of key attributes help alleviate some of the burden of running a melt index test from the technician and improves repeatability of the data.
The melt flow indexer provides results in the form of MFR, MVR, Melt Density, IV, Shear Viscosity and Shear Rate.
Meets standards:
ASTM D1238 and D3364, ISO 1133, BS 2782, DIN 53735, JIS K7210.
Digital Encoder
The Digital encoder provides a high precision measurement of piston displacement during Method A/B and B tests.Automatic Sample Cutter
Automatic Sample Cutter
Cuts samples automatically at defined cut times of Method A and Method A/B Testing. Will also cut sample at end of pre-heat melt time of a test, regardless of method. Leads to more consistent
Force Packer
The Force Packer is designed to apply a constant force to compress the sample once the opera-tor has loaded the polymer sample. This constant force promotes a level of confidence by removing variability between operators.
LaVA Suite Software
The redesigned software is capable of producing customized series of data including informa-tion about testing conditions, melt index values, shear stress, shear rate, viscosity, and apparent melt density. Through the use of this software option, these values are recorded and may be reported through various out-puts and formats.
Weight Lift System
The weight lift system allows for effortless weight application. By storing all of the weights in a stack above the LMI, selecting the weight load is as simple as moving the selector pin from one slot to the next eliminating the need for lifting weights manually. The lift system also offers a mid-position stop and hold feature for highly viscous materials.
Languages
Supports 12 languages: English, Chinese, Dutch, German, Polish, Japanese, Portuguese, Spanish, Italian, Czech, French, Russian.
Provided results
| | |
| --- | --- |
| Melt flow index: | MFR - Melt Flow Rate [g/10min] |
| Melt flow index: | MVR - Melt Volume Rate [ccm/10min] |
| Melt density: | MD - Melt Density [g/ccm] |
| Intrinsic viscosity (PET): | IV - Instristic viscosity [dl/g] |
| Shear Viscosity: | Shear Viscosity [Pa.s] |
| Shear rate: | Shear Rate [1/s] |
Performance parameters
Compliant Standards:
ASTM D1238 & D3364, ISO 1133, BS2782, DIN 53735, JIS K7210
Operating temperature:
Ambient to 500 °C
Temperature control accuracy:
±0.1 °C
Timer accuracy:
0.001 second
Accuracy of digital encoder:
±0.025mm over 25.4 mm
Display:

• 7" TFT Touch Screen

• 130° Viewing Angle

• 800 x 480 Screen resolution

• WVGA Resistive Screen Type

Weights:
Aluminum, Stainless and Plated Steel 0.325 to 31.6 Kg
Communication:

USB x 2, PC Connectivity, Scale Interface, Printing and Flash Storage
Other parameters
Overall Dimensions, Base Model
13W x 25D x 20H in. (33W x 64D x 51H cm)
Overall Dimensions, Base Modelwith Lift System
13W x 25D x 51H in. (33W x 64D x 132H cm)
Weight, Base Model
47 lbs. (21.3 Kg)
Weight, Base Model with Lift
System
100 lbs. (45.4 Kg)
Shipping Weight, Base Model with Weights
180 lbs . ( 81.8 Kg)
Shipping Weight, Base Model
with Lift System
360 lbs. (163.6 Kg)
Electrical Specification
| | |
| --- | --- |
| System Voltage | 100-120Vac 50/60Hz or220-240Vac 50/60Hz, 500VA, + 5% , 1φ |
| Power | 500W max., 100W typical at set point |
Certification Approval
| | |
| --- | --- |
| | |
| | |
| | EAC - The Eurasian Conformity mark |
| | |
| | |
| | |