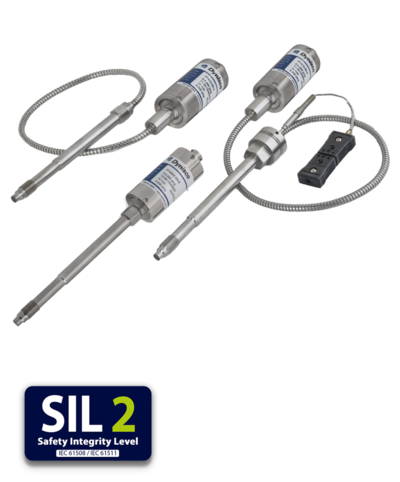 MDT 460 | 462 | TDT 463
The MDT series signal amplifiers convert the process pressure into an amplified signal for long-distance transmission without interference. All models are available in 4-20 mA, 0-5 VDC and 0-10 VDC, 2-, 3- and 4-wire variants. Many of the features found in the standard Dynisco MDA series have been incorporated into the enhanced MDT series, including the proven strain gauge design of the sensor for stable operation, including the flexible capillary design. Including the possibility of internal digital calibration R-Cal.

All sensors in this series can be configured according to your needs. Contact us, we will be happy to help you.
PERFORMANCE CHARACTERISTICS
Pressure range:

from 0 - 17 bar up to 0 - 2 000 bar

Accuracy:

± 1.0% FSO, (Including linearity, repeatability and hysteresis)

Overload capacity:

2x total range for 1000 bar
for a range of 1400 maximum 1750 bar
for the 2000 range maximum 2400 bar

Repeatability:

0.1 % f.s.v

Material in Contact with Media:

15-5 PH coating of Dynmax®

Sensor connection:

1/2"-20 UNF-2A or M18 x 1.5

Mounting torque:

25 Nm - 55 Nm

Burst Pressure:

With burst pressure 6 x total sensor range. max 3000 bar

Sensor construction:
MDT 460 - Sensor with rigid stem
MDT 462 - Sensor with flexible capillary.
TDT 463 - Sensor with flexible capillary and temperature sensor.
TEMPERATURE CHARACTERISTICS
| | | |
| --- | --- | --- |
| | Max. membrane temperature: | |
| | Zero shift (due to temperature): | |
| | ------------------------------------------- | ------------------------------------------------------------------ |
| | Max. sensor body temperature: | 85°C |
| | Zero shift (due to temperature): | 0.2 % f.s.v. / 10°C |
| | Shift sensitivity (due to temperature): | 0.1 % f.s.v. / 10°C |
ELECTRICAL CHARACTERISTICS
Two-wire configuration output signal with [mA]

Nastavení nuly:

-2 % / + 5% f.s.v

Insulation resistance:

1.2KΩ at 36V DC,

MDT4X0 K / L / M / N
Three-wire configuration output signal in [V]

Output signal:

K=(0-5Vdc) L=(0-10Vdc) M=(1-6Vdc) N=(1-11 Vdc)

Supply Voltage:

15Vdc - 32 Vdc

Insulation resistance:

>5KΩ >5KΩ >10KΩ >10KΩ

MDT4X0 G / H
Four-wire configuration output signal in [V]

Output signal:

G=(0-5Vdc) H=(0-10Vdc)

Supply Voltage:

Two-wire ± 10Vdc to ± 16 Vdc
Single wire ± 19Vdc to ± 32 Vdc

Insulation resistance:

>5KΩ / >10KΩ
SENSOR DIMENSIONS:
Certification & Approval
| | |
| --- | --- |
| | |
| | |
| | EAC - The Eurasian Conformity mark |
| | GOST Approval |
| | |
| | |
| | |