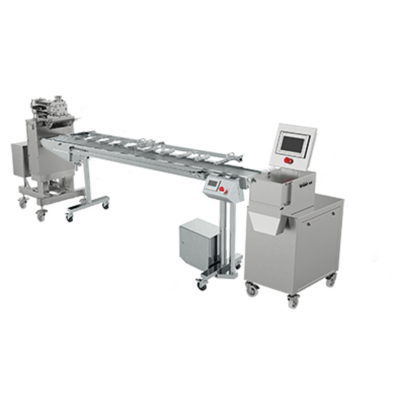 Belt-Cooling Pelletizing System PFS Series 30
The Belt-Cooling Pelletizing System PFS is specially designed for water soluble and brittle formulations. The variable system configuration enables perfect adaptation to the product being processed and guarantees continuous manufacturing. Even elastic and very flexible polymers can be handled by the belt system in a simple and efficient way. The system produces top-quality cylindrical pellets or micro-pellets which are ideal for further downstream processing.
Poptávkový systém
Nakonfigurujte si vlastní produkt, podle Vašich požadavků a potřeb. Pokud si s konfigurací nebudete jistí, uveďte do poznámek potřebné informace o stavajícím produktu třeba i konkurenčním. Rádi Vám pomůžeme najít alternativní produkt z řady MAAG. Pokud je Vaše poptávka urgentní informujte nás o tom, uděláme maximum, abychom Vám pomohli tuto situaci vyřešit co nejrychleji.
Pokud potřebujete více informací, neváhejte nás kontaktovat.
Konfigurační kód MAAG:
Technical Data
| Technical Data | Series 30 | Series 60 | Series 120 |
| --- | --- | --- | --- |
| Pump: | extrex® 20 GP | extrex® 22 GP | extrex® 36 GP |
| Specific volume: | 1,3 cm3/U | 4,7 cm3/U | 25,6 cm3/U |
| Differential Pressure Δp: | max. 250 bar | max. 250 bar | max. 250 bar |
| Temperature range: | 30° to 200°C | 30° to 200°C | 30° to 200°C |
| Die Head: | Series 50 | Series 100 | Series 200 |
| No. of strands: | 1-3 | 3-10 | 10-25 |
| Cooling belt: | Series 250 | Series 250 | Series 250 |
| Cooling belt length: | 2,3,5 or 7 m | 2,3,5 or 7 m | 2,3,5 or 7 m |
| Belt speed: | 0,8-10 m/min or 8-80 m/min | 0,8-10 m/min or 8-80 m/min | 0,8-10 m/min or 8-80 m/min |
| Pelletizer: | PRIMO 30 | PRIMO 60 | PRIMO 120 |
| Throughput: | 0,3-2 kg/h | 2-20 kg/h | 10-60 kg/h |
| Pellet size: | 0,3-3 mm | 0,3-6 mm | 0,3-6 mm |
Application Areas
Production of micro-pellets to avoid milling
For direct tableting or encapsulation
Continuous operation or batch production
Pelletizing of brittle and/or sticky formulations
For pelletizing from an extruder or reactor vessel