Dynisco Company
With more than 6 decades of commitment to helping customers, Dynisco provides the tools and services for the polymer industry allowing customers a "window into the process".
Today's customers require accurate information that will allow them to validate and if necessary adjust their process ensuring the products they make meet or exceed their specifications. The information Dynisco provides allows our ​customers to keep their process consistent regardless of their global locations.Dynisco's diverse portfolio of sensing and polymer test equipment delivers some of the most accurate information available in the market for the measurement of polymer rheology, pressure, and temperature.

Viatran Company
Viatran is a worldwide leader providing innovative pressure and level transmitters. Our high accuracy transducers and rugged pressure transmitters provide repeatable measurements over a wide range of pressures and temperatures. Viatran pressure sensors offer mV/V, voltage and 4-20 mA outputs along with a variety of electrical connections and pressure port fittings. Our pressure sensor product families include standard duty pressure transmitters, high accuracy pressure transducers, differential pressure transmitters, submersible pressure sensors, process pressure transmitters, sanitary pressure transducers, flush mount pressure sensors, severe duty pressure transmitters, and special duty pressure sensors. For half a century, Viatran has been solving pressure, level measurement, extreme temperature and fast response problems in some of the toughest application environments - highly corrosive media, damaging cyclic pressure, and severe shock and vibration. Viatran pressure sensors and level measurement transmitters are designed for applications such as oil and gas services, steel production, food and medical equipment, die casting, chemical production and various automotive and aerospace tests.

Maag Company
The MAAG Group comprises successful and renowned companies, each with their own impressive history. Automatik Plastics Machinery, Ettlinger Kunststoffmaschinen, Maag Pump Systems, Gala Industries, Reduction Engineering Scheer and Xantec Steuerungs- und EDV Technik are today the strong and innovative product brands of the MAAG Group.
The history of the MAAG Group thus begins in the late 19th century, with the establishment of Scheer as a metal foundry and machine factory in Stuttgart, Germany, in 1890. Maag Pump Systems was founded in 1913. Automatik Plastics Machinery was founded in 1947. Gala Industries was founded in 1959, and Ettlinger Kunststoffmaschinen in 1983. The youngest member of MAAG Group – Xantec Steuerungs- und EDV-Technik was founded in 1994. Over the decades, they have all grown into experts in the various fields of polymer production and processing.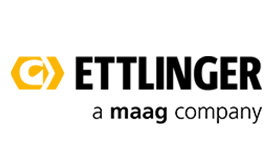 ETTLINGER Company
ETTLINGER is a brand in the plastics industry under which you can equip powerful and reliable melt filtration systems for extrusion and injection molding applications for more than 35 years. Ettlinger is now part of the MAAG Group and is developing special high-performance melt filtration systems, together with high-capacity injection molding machines and tailor-made applications for every customer.
ETTLINGER offers globally unique expertise in filtration and recycling systems and injection molding machines. Our continuously operating high-performance melt filters are successfully used worldwide to filter polymer feedstocks with varying degrees of contamination. Each system incorporates decades of experience, thorough know-how and state-of-the-art technology, thanks to which ETTLINGER sets global standards as part of the MAAG Group.
Ettlinger melt filters are state-of-the-art technology for processing a variety of recycled materials - with a patented principle that has already proven its functionality and performance in many industrial applications around the world. The ERF and ECO series are capable of processing virtually any standard polymer that occurs in recycling plants in the production of films and boards, in the production of tapes and fibers, etc. technologies. Thanks to their uniquely compact design, they are also ideal for retrofitting existing lines.