Instrument calibration
Certified calibration of Dynisco laboratory plastometers and rheometers. According to EN ISO 1133-1,2 and EN ISO 17025.
Instrument calibration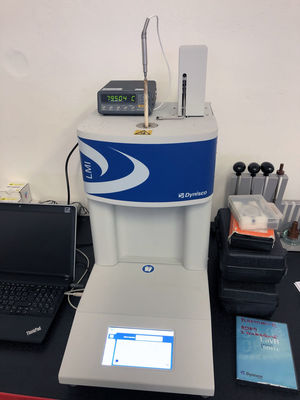 Explore our exclusive Dynisco laboratory instrument calibration services! We offer top-notch calibration directly at your location or through our specialized facility. Take advantage of our fast and secure instrument shipping for maximum convenience.
Our thorough calibration process includes precise inspection of mechanical dimensions of all functional parts, temperature parameters, and other optional device components. When shipping your instrument to us, we recommend carefully packing and securing all accessories, including weights, to prevent any damage. Together, we'll ensure the highest level of accuracy and reliability for your Dynisco instruments!
Choose the ideal calibration for your device:
Customer Calibration - Exclusive and Convenient Service Simply arrange with us and send your order, and our technician will arrive directly at your location to perform the calibration on-site. Save time and get professional services without having to arrange packaging and transportation.
Calibration at our Facility - Professional and Reliable Care If you decide to send the device to us, pack it carefully with all accessories and inform us about the shipment. At our facility, we ensure precise calibration, thorough testing, and then securely send the device back to you. Enjoy a hassle-free process and the certainty of quality results.
Prepare the information about your device in advance, which can be found on the back near the power cable, such as the device model and serial number, allowing our technician to determine the specific equipment of the device.
Please provide the expiration date of the current calibration and your preferred date for the new calibration.
Also, send us the billing address and the location address of the device if it differs from the billing address.
We will get back to you shortly with a calibration offer.
How to pack the device for shipping?
If you plan to send your device to us for calibration, please include an order with all the information needed for your clear identification, such as billing address, company ID, tax ID, and possibly the delivery address if it differs from the billing address. Please also provide a phone contact and email address.
Attach the capillary, measuring piston, and weights to the device. Secure all accessories to prevent damage to the device or its components. If the device is damaged or you have doubts about its proper functioning, let us know. This way, you will shorten the time the device will be tested (held) by us.
Is it possible to hand over or pick up the device in person?
Personal handover or pickup of the device is possible in our facility in Rožnov pod Radhoštěm, Street Boženy Němcové 1720, 75661. Please note that payment by card is not available. Personal pickup needs to be arranged in advance when delivering the device for calibration or specified in the order. We will inform you by phone or email about the readiness of the device for pickup.
Personal handover or pickup of the device is possible during the following time:
Monday - Friday: 9:00 am - 4:00 pm.
How long does the calibration take and what is its price?
Upon request, we are happy to provide you with the price for calibration of your device. These prices vary depending on the equipment and model range of the device. If your device exhibits problems or damage, we offer repair services. In case it requires a more expensive repair, we will of course contact you before proceeding. Currently, we estimate a processing time of 2 days for your device in our company, however, this time cannot be included in the overall time required for transportation to our facilities.
If we agree on an appointment in advance, we also offer express calibration with completion within one working day. In such a case, however, we charge a 30% surcharge. If you send us your device for calibration and the order is not included in the shipment, it may extend the calibration time.
What happens to the instrument after calibration?
After calibration, the device is provided with a calibration label (sticker) and a calibration report is issued. This report does not dictate the date of the next calibration or the calibration validity period. This period is determined by the user or is dependent on the company's audit requirements. However, we strongly recommend that the device be calibrated at least once a year.
Notice:
From the moment the shipment is handed over to the carrier, our company has no possibility to influence the date/time of delivery in any way. Therefore, please provide your phone contact information when placing an order. This contact will be listed on the shipping address label. In case of delivery issues, the carrier may contact you and make arrangements with you.
Calibration Technician
Zbyněk Štamposký
kontaktní QR kód
Tel.:+420 571 647 310
Mobile: +420 606 337 879
E-mail:
stamposky@azurr-tech.cz
Field Service Technician
Jan Šimurda
kontaktní QR kód
Tel.:+420 571 647 310
Mobile: +420 773 616 601
E-mail:
simurda@azurr-tech.cz
---
Non-binding inquiry for calibration of a laboratory instrument: