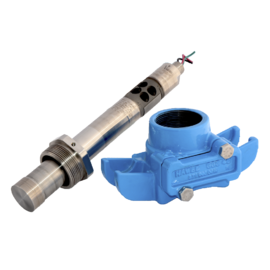 Model 555 Pressure Transmitter
Designed for harsh abrasive slurry, the 555 has a unique feature which allows for wet installation in less than an hour through the use of a pipe saddle with integral shutoff. External adjustments and corrosive resistant wetted materials make this an excellent choice for pulp and paper, waste water processing, slurry and sludge measurements.
Inquiry system
Configure your own product according to your requirements and needs. If you are unsure of the configuration, provide us in the notes the necessary information about the existing sensor or product, even a competitor. We will be happy to help you find an alternative Viatran product. If your request is urgent, let us know. We will do our best to help you resolve this situation to your satisfaction as quickly as possible. If we have all the information, we are able to offer a model with minor differences, which is in stock and you can have another product available the next day.
If you need more information do not hesitate to contact us.
Viatran Configuration Code:
PERFORMANCE
Full Scale Pressure Ranges

0-50, 100, 150, 200, 250, 300, 500, PSIS

Combined Accuracy
(Non-Linearity, Hysteresis and repeatability)
50 - 100 PSI ≤±.5% FSO
150 - 500 PSI ≤±.3% FSO
Full Scale Output (FSO)

16 mA at 70°F (21°C)

Long Term Stability

≤±0.5% FSO per 6 months

Pressure Connection Effect Zero Balance

≤±1% FSO

Response Time
(Mechanical & Eletrical Combined)

<20 mSec to reach 90% of Full Scale

Temperature Effect on Zero

±1% FSO per 100°F (37°C)

Temperature Effect on Span

±1% FSO per 100°F (37°C)

Combined at 4:1 Range Down

70°F to 170°F (21°C to 77°C)

Compensated Teperature Range

185°F (85°C) - Ambient

Maximum Operating Temperature

250°F (121°C) - Fluid

Minimum Operating Temperature

-40°F (-40°C)

Storage Temperature Limits

-65°F to 250°F (-53°C to 121°C)
ELECTRICAL
Supply Voltage:

Power Consumption

Output Signal

Load Impedance

900 Ohms maximum at 30 Vdc

Elevation

-100% of FSO

Suppression

+50% of FSO

Span Adjustment

Rangeable down 4:1 from standard range

Range Calibration Signal

20% of FSPR externally switched

Calibration Signal Accuracy

±1.0% FSO. The exact signal to pressure correlation is provided with each unit

Circuit Protection

Varistor protected across the input leads for surges above 40V and currents to 250 Amps Peak with a pulse width of 20 µSec. Reverse polarity protected

Bridge Resistance

5K Ohms nominal

Insulation Resistance

≥200 MegOhms to case ground (≤5 nS)

RFI/EMI

Negligible to 500 MHz at 5 Watts direct contact

Electrical Connection

1/2" NPT (M), 18 AWG, 72"

Wire Color Codes

Red +Power/Signal

Black -Power/Signal

Green Case Ground
MATERIALS OF CONSTRUCTION
| | | |
| --- | --- | --- |
| | | Inconel X750 and 316L stainless steel |
| | | Inconel X750 and 316L stainless steel |
| | Enclosure Classification | |
MECHANICAL
| | | |
| --- | --- | --- |
| | Pressure Connection: | 100 - 1000 PSI Flush Diaphragm |
| | Proof Pressure: | |
| | Burst Pressure: | |
| | Shock Limitation | 100 g's |
| | Weight | 70 oz (2kg) |
CERTIFICATIONS
FM

Intrinsic Safety: Class I, II, III, Division 1, Groups A-G, and AEx ia IIC, T4 at Ta=80ºC, T5 at Ta=40ºC, Indoor and Outdoor NEMA/Type 4X Hazardous Locations

Nonincendive: Class I,II,III Div. 2, Groups A-G and Class I, Zone 2, Group IIC, T4 at Ta=80ºC, T5 at Ta=40ºC

CSA (Pending)

Intrinsic Safety: Class I, Div. 1, A-D Class II, E-G, Class III, Ex ia IIC T4 at Ta=80ºC, T5 at Ta=40ºC

ATEX

Intrinsic Safety: II 1 G EEx ia IIC, -20ºC T4, Ta 50ºC

CE
EMC Directive 89/336/EEC and Low Voltage Directive 72/23/EEC
EN 61010-101993/A2:1995: Low Voltage Standard
EN 61326: EMC Conformity Standard
PED Directive 97/23/EC EMC Directive 89/336/EEC
OPTIONS
| | | |
| --- | --- | --- |
| | BB | Mini change electrical connector |
| | BP | Micro change electrical connector |
| | CL | Extra lead length (6 ft standard) |
| | DG | Improved temperature and compensation |
| | DK | Special shunt calibration |
| | EA | Special calibration run |
| | NG | ATEX Flameproof label |
| | NH | Customer specified identification |
| | NJ | CE label |
| | NK | ATEX Intrinsic Safety label |
| | NSR | Non standard range |
| | NX | CSA Intrinsic Safety label |
| | NZ | FM Nonincendive label |
| | TF | FM Intrinsic Safety label |
| | TJ | CSA Div / Zone 2 |
| | TW | Russia Intrinsic Safety |
| | VD | G2" retaining nut |
| | Z () | Alternate electrical connection |
| | ZU | irect coupled cable |
ACCESSORIES
| | | |
| --- | --- | --- |
| | Pipe Saddle with shutoff | |
| | Conduit connection box | |
| | Calibration text fixture | |