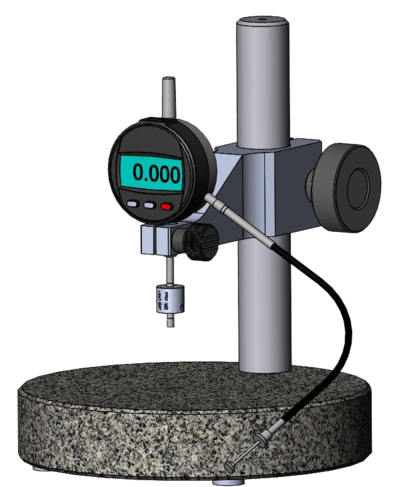 Thickness Gauge HTG-A
The Hildebrand thickness gauge is a cost efficient and easy to use instrument for measuring the thickness of different materials.
The modular design with interchangeable foots with related weights enables the use for several standards. We can also offer specific thickness gauges modified to fit your special requirements.
The constant force enables repeatable readings.
We use only corrosion-resistant materials. Therefore you can use the Hildebrand thickness gauges in environments with high humidity.
Features:
Laboratory grade granite base: Ø200 mm x 40 mm
Column diameter: 30 mm (stainless steel)
Sturdy extention arm (stainless steel)
Individual serial number on the weight/foot
You can measure material thickness up to 12 mm. Above 12 mm you require a slip gauge (accessories) and the Preset-Function of the electronic gauge (e.g. 10 mm slip block: Material thickness 10 up to 22 mm).
Resolution: 0,001 mm
Weight: approx. 5,5 kg
Delivered with operating instructions and manual lifter
Model

Order.-No.

Standards

Aplication

Information

Foot Ø

(mm)

Weight

(g)

Pressure

(kPa)

HTG-1

219 250

ISO 23529

ASTM D 3767

Rubber

4,0

28,0

22,0

HTG-3

219 252

ISO 5084

Textiles

50,5
204,0

1,0

HTG-4

219 253

ASTM D 3767

Rubber with hardness <35 IRHD

16,0
212,0
10,0

HTG-5

219 254

ASTM D 1777

Option 2

Textile Materials, coated fabrics,

Webbings, Tapes, Ribbons, Braids

9,5
169,0
23,4

HTG-11

219 260

DIN EN ISO 12625-3

Tissue

35,7
204,0
2,0

HTG-12

219 261

DIN EN 1849-2

Flexible sheets for waterproofing

10,0
160,0
20,0

HTG-13

219 262

ASTM D 1777

Option 1

Woven fabrics, knitted fabrics, textured fabrics

Picture | Drawing | Catalog page
28,7
273,0
4,14

HTG-14

219 263

ASTM D 1777

Option 5

Blankets, pile fabrics,

napped fabrics

Picture | Drawing | Catalog page
28,7
46,2
0,7

HTG-15

219 264

DIN EN ISO 2286-3

Part 3

Rubber- or plastics-coated fabrics

10,0
16,0
2,0

HTG-16

219 265

DIN EN ISO 2286-3

Part 3

Rubber- or plastics-coated fabrics

10,0
192,2
24,0

HTG-18

219 267

ASTM F 2251

Flexible packaging material

6,35
10...150
---