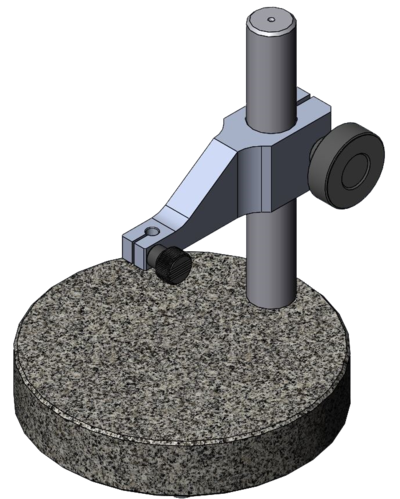 Thickness Gauge HTG modular
The stated weight is the total mass (foot + weight + measuring spindle).
For your special requirements you can order the measuring stands separately or you can combine it with additionals weights/feets. Please send us your requirements. We will help you to select the proper components (Inquiry).
The constant force enables repeatable readings.
We use only corrosion-resistant materials. Therefore you can use the Hildebrand thickness gauges in environments with high humidity.
Features measuring stands:
Laboratory grade granite base: Ø200 mm x 40 mm
Column diameter: 30 mm (stainless steel)
Sturdy extention arm (HTG-A und HTG-B steinless steel; HTG-C aluminium)
Ball bearings enables low friction (HTG-C)
Weight: approx. 5 - 8 Kg
Features weight/foot:
Weight according to model consists of stainless steel or aluminium
Foot according to model consists of stainless steel or aluminium
Features digital dial gauge:
Digital dial gauge 1075R:
You can measure material thickness up to 12 mm. Above 12 mm you require a slip gauge (accessories) and the Preset-Function of the electronic gauge (e.g. 10 mm slip block: Material thickness 10 up to 22 mm).
Resolution: 0,001 mm
Digital dial gauge 2000:
Measuring way: 0,8 / 1,8 mm according to resolution
3 Resolution adjustable:
0,005 mm = 1,8 mm measuring way
0,001 mm = 1,8 mm measuring wayg
0,0002mm = 0,8 mm measuring way
Model

Order.-No.

Description

Download

Weigth

(Kg)

219 200

Measuring Stand with extention arm without

digital dial gauge

Catalog page

6,0

219 201

Measuring Stand with extention arm and

digital dial gauge 1075R

Catalog page

6,2
219 202

Measuring Stand with extention arm and

digital dial gauge 2000

Catalog page

6,2
HTG-C

219 204

Measuring Stand with extention arm incl.

manual lever and digital gauge 1075R

Catalog page

7,0
The following weights and foots can be used as a upgrade for HTG-A, HTG-1, HTG-3, HTG-4, HTG-5, HTG-11, HTG-12, HTG-13, HTG-14, HTG-15, HTG-16, HTG-18:
Order.-No.

Standard

Application

Foot Ø

(mm)

Weight

(g)

Pressure

(kPa)

219 3021

ISO 23529

ASTM D 3767

Rubber

5,0

20,0

10,0

219 302

ISO 23529

ASTM D 3767

Rubber
6,0
29,0

10,0

219 306

ASTM D 3767

Rubber
6,3
32,0
10,0
219 3022

ISO 23529

ASTM D 3767

Rubber
8,0
51,0
10,0
219 3023

ISO 23529

ASTM D 3767

Rubber
10,0
80,0
10,0
219 305

ASTM D 3767

Rubber
16,0
212,0
10,0
219 3011

ISO 23529

ASTM D 3767

Rubber
3,0
16,0
22,0
219 301

ISO 23529

ASTM D 3767

Rubber
4,0
28,0
22,0
219 3012

ISO 23529

ASTM D 3767

Rubber
5,0
44,0
22,0
219 3013

ISO 23529

ASTM D 3767

Rubber
6,0
63,0
22,0
219 3051
ASTM D 3767
Rubber
6,3
70,0
22,0
219 3014

ISO 23529

ASTM D 3767

Rubber
8,0
113,0
22,0
219 3015

ISO 23529

ASTM D 3767

Rubber
10,0
176,0
22,0
219 303
ISO 5084
Textiles
50,5
204,0
1,0
219 307

ASTM D 1777

Option 2

Textile Materials, coated fabrics,

Webbings, Tapes, Ribbons, Braids

9,5
169,0
23,4
219 320

ASTM D 1777

Option 5

Blankets, pile fabrics, napped fabrics
28,7
46,2
0,7
219 308

ISO 9073-2

Method A

Nonwoven
56,4
128,6
0,5
219 309
DIN EN 1849-2
Flexible sheets for waterproofing
10,0
160,0
20,0

219 310

219 086

DIN EN ISO 24346-

part 2

Resilient floor coverings

Horseshoe 500 g

25,3
200,0
4,0
219 312
DIN EN ISO 12625-3
Tissue
35,7
204,0
2,0
219 313

DIN EN ISO 2286-3

Part 3

Rubber- or plastics-coated fabrics
10,0
16,0
2,0
219 3131

DIN EN ISO 2286-3

Part 3
Rubber- or plastics-coated fabrics
10,0
40,0
5,0
219 3132

DIN EN ISO 2286-3

Part 3
Rubber- or plastics-coated fabrics
10,0
80,0
10,0
219 3133

DIN EN ISO 2286-3

Part 3
Rubber- or plastics-coated fabrics
10,0
192,2
24,0
219 319

ASTM D 1777

Option 1

Woven fabrics, knitted fabrics, textured fabrics
28,7
273,0
4,14
219 323
ASTM F 2251
Flexible packaging material
6,35
10...150
---
The following weights and foots can be used as a upgrade for HTG-C, HTG-6, HTG-7, HTG-8, HTG-9, HTG-10, HTG-17:
Order.-No.

Standard

Application

Foot Ø

(mm)

Weight

(g)

Pressure

(kPa)

219 315

DIN EN ISO 2589

Leather

10,0

393,0

49,1
219 316

ASTM D 1777

Option 3

Films, Glass cloths, Glass tapes
6,3
546,7
172,0
219 311
ASTM D 5199
Geosynthetics
56,4
509,5
2,0
219 317

DIN EN ISO 534

Paper and Cardboard
16,0
2050,0
100,0
219 318

DIN EN ISO 3034

Cardboard
35,7
2041,0
20,0
219 321
ASTM F 2251
Flexible packaging material
15,875
1033,0
50,3