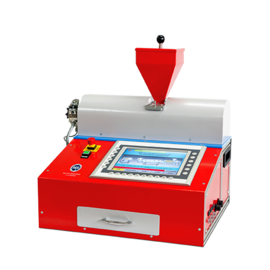 Lab Extruder W12
PRESENTED W12 SINGLE SCREW EXTRUSION MACHINE with a simple, compact structure and easy operation is intended for extrusion of thermoplastics with a capacity of up to 2 kg/h. The extruder is especially dedicated to scientific units and universities specializing in educating staff in the field of thermoplastic extrusion processes, as well as for research and testing of plastics extrusion in laboratory conditions. It is characterized by a very low demand for plastic for extrusion (from 100 grams).
The extruder may constitute the necessary equipment for the R&D department in enterprises when conducting development works, new innovative technologies or quality control before production on an industrial scale. The Institute offers single-screw and twin-screw extruders, which can be equipped with a traditional (analog) or computer (controller) control system with a touch panel, which enables:
Inquiry system
Configure your own product according to your requirements and needs. If you are unsure of the configuration, provide us in the notes the necessary information about the existing sensor or product, even a competitor. We will be happy to help you find an alternative IMPIB products. If your request is urgent, let us know. We will do our best to help you resolve this situation to your satisfaction as quickly as possible. If we have all the information, we are able to offer a model with minor differences.
If you need more information do not hesitate to contact us.
Configuration code