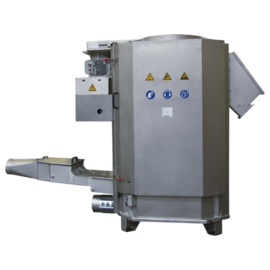 CENTRO centrifugal dryer
The CENTRO series of dryers is suitable for use with both underwater pelletizing and underwater strand pelletizing systems. Well thoughtout and highly accessible components, such as the core rotor device, serve to provide excellent operating characteristics and efficient servicing.
Inquiry system
Configure your own product according to your requirements and needs. If you are unsure of the configuration, provide us in the notes the necessary information about the existing sensor or product, even a competitor. We will be happy to help you find an alternative MAAG products. If your request is urgent, let us know. We will do our best to help you resolve this situation to your satisfaction as quickly as possible. If we have all the information, we are able to offer a model with minor differences.
If you need more information do not hesitate to contact us.
MAAG Configuration code
​​TECHNICAL PARAMETERS
Model

CENTRO 50

CENTRO 150

CENTRO 300

CENTRO 800

CENTRO 1600

CENTRO 2200
CENTRO 4000

Throughput rates:

500 kg/h

1,500 kg/h

3,000 kg/h
8,000 kg/h

16,000 kg/h

22,000 kg/h
40,000 kg/h

Water throughput:

20 m 3 /h

35 m 3 /h

45 m 3 /h

70 m 3 /h

120 m 3 /h

120 m 3 /h
250 m 3 /h

Motor power rotor:

1.1 kW

4 kW

5.5 kW

7.5 kW

11 kW

15 kW
22 kW

Air throughput:

10 m 3 /min

27 m 3 /min

27 m 3 /min

27 m 3 /min

74 m 3 /min

74 m 3 /min
125 m 3 /min

Motor power:

0.13 kW

1.1 kW

1.1 kW

1.1 kW

3 kW

3 kW
5.5 kW
System:
M-USG, P-USG, CYCLO ® or SPHERO ®
Main applications:
All virgin polymers, compounds, masterbatches, recycling applications, micro-granular compounds, thermoplastic elastomers, etc.
Pre-dewatering:
Gravitational separation through a slotted screen
Primary drying:
Separation through impact against surface of rotor blades and of cylindrical screen. Airfl ow in reverse direction. Evaporation of the residual surface moisture due to residual heat of the pellets
Pellet conveyance:
Pellets are lifted and hurled by a spinning rotor with inclined lifting blades
Throughput rate:
Up to 40,000 kg/h