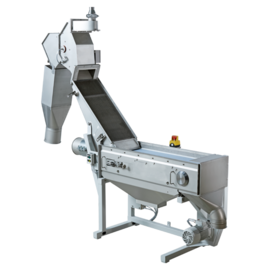 DURO
Efficient pellet drying technology for abrasive pellets
The DURO belt dryer in combination with the underwater pelletizing systems from Gala and Automatik is the perfect solution for the production of abrasive or brittle pellets such as compounds highly filled with fiber glass or minerals. The drying process does not use any rotating parts and thus is a very gentle process reducing costs related to wear to a minimum.
Inquiry system
Configure your own product according to your requirements and needs. If you are unsure of the configuration, provide us in the notes the necessary information about the existing sensor or product, even a competitor. We will be happy to help you find an alternative MAAG products. If your request is urgent, let us know. We will do our best to help you resolve this situation to your satisfaction as quickly as possible. If we have all the information, we are able to offer a model with minor differences.
If you need more information do not hesitate to contact us.
Configuration code
Technical data:
Technical data:

DURO 1000

DURO 3000

DURO 6000

Throughput rates:
1,500 kg/h
3,000 kg/h
5,000 kg/h
Water throughput:
25 m 3 /h
45 m 3 /h
80 m 3 /h
Motor power (belt):
1.1 kW
1.1 kW
1.1 kW
Pellet temperature at the end of dryer (with spiral conveyor):
100-140 °C (60-80 °C)
System:
SPHERO® and CYCLO ®
Main applications:
Abrasive or brittle compounds
Pre-dewatering:
Gravitational separation through a slotted screen
Primary drying:
Airfl ow (suction) through perforated conveyor Evaporation section on the conveyor/spiral conveyor
Pellet conveyance:
Pellets rest on conveyor belt
Throughput rate:
Up to 6,000 kg/h