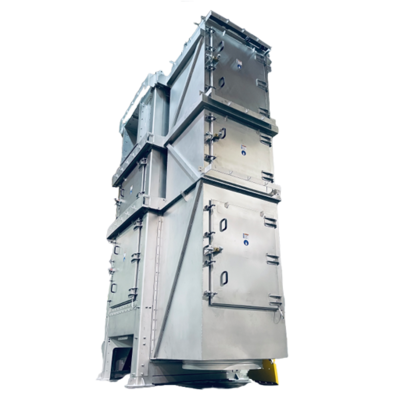 High-Capacity Model
MAAG/Gala is the market leader for high capacity dryers. Large resin producers have the need for high capacity, continuous operation pellet dryers. By utilizing patented processes and innovative equipment designs, MAAG/Gala is capable to manufacture centrifugal pellet dryers with outputs up to 150 metric tons per hour (330,000 lbs/hr). Design innovations such as segmented rotor designs, wedge wire rotor screens, leak proof bearing seals in combination with high quality steel options assure our customers highest reliability. All MAAG/Gala pellet dryers are supplied with door timed interlocks and local power disconnect for operator safety.
Inquiry system
Configure your own product according to your requirements and needs. If you are unsure of the configuration, provide us in the notes the necessary information about the existing sensor or product, even a competitor. We will be happy to help you find an alternative MAAG products. If your request is urgent, let us know. We will do our best to help you resolve this situation to your satisfaction as quickly as possible. If we have all the information, we are able to offer a model with minor differences.
If you need more information do not hesitate to contact us.
MAAG Configuration code
​​TECHNICAL PARAMETERS
Model

Model 60

Model 70

Model 100

Model 150

Drying Capacity (1)

60,000 kg/h (130,000 lbs/hr

70,000 kg/h (150,000 lbs/hr)

100,000 kg/h (220,000 lbs/hr)
150,000 kg/h (330,000 lbs/hr)

Dewatering Capacity Max. BF (GPM)

90 m 3 /h (400 GPM)

90 m 3 /h (400 GPM)

90 m 3 /h (400 GPM)

90 m 3 /h (400 GPM)

Dewatering Capacity Max. DW (GPM)

685 m 3 /h (3,000 GPM)

910 m 3 /h (4,000 GPM)

1,360 m 3 /h (6,000 GPM)

1,360 m 3 /h (6,000 GPM)

Air Flow (CFM)

18,700 Nm 3 /h (11,000 CFM)

18,700 Nm 3 /h (11,000 CFM)

21,875 Nm 3 /h (12,800 CFM)

21,875 Nm 3 /h (12,800 CFM)

Motor Size

55 kW (75 HP)

55 Kw (75 HP)

93 kW (125 HP)

112 kW (150 HP)

Rotor Screens
wedge wire 1.4mm (0.055") slotted openings
wedge wire 1.4mm (0.055") slotted openings
wedge wire 1.4mm (0.055") slotted openings
wedge wire 1.4mm (0.055") slotted openings
Dewatering Screens
punched 1.9mm (0.075") round openings
wedge wire 1.4 mm (0.055") slotted openings
wedge wire 1.4mm (0.055") slotted openings
wedge wire 1.4mm (0.055") slotted openings
Feed Screen
circular wedge wire 1.4mm (0.055") slotted openings
circular wedge wire 1.4mm (0.055") slotted openings
circular wedge wire 1.4mm (0.055") slotted openings
circular wedge wire 1.4mm (0.055") slotted openings
Rotor Speed
385 RPM
385 RPM
385 RPM
385 RPM
Housing Design
easy access (2)
heavy duty (4)
heavy duty (4)
heavy duty (4)
Rotor Removal
through top (3)
through side (5)
through side (5)
through side (5)
Agglomerate Catcher
Model 18 PSAG
Model 20 PSAG
Model 28 PSAG
Model 28 PSAG
Pellet Diverter Valve
Model 7.14
Model 9.20
Model 9.20
Model 9.20

Specifi cations are subject to change without notice when products are improved in quality of performance.

(1) Capacity is based on 1/8" (3 mm x 3 mm) round, smooth LDPE pellet

(2) Must be shipped vertically

(3) Needs overhead clearance for rotor removal

(4) Can be shipped horizontally

(5) Needs minimum overhead clearance for rotor removal