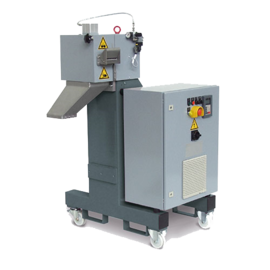 PRIMO 100/200 E
The dry cut strand pelletizers of the PRIMO E series are characterized by maximum fl exibility. Variable system confi gurations allow for optimal matching with your specifi c production requirements and also provide utmost fl exibility in terms of product changeover. The cylindrical pellets convince with their consistently high quality and are idealy suitable for further processing.
Functioning of the WSG systems Polymer strands extruded from a die head 01 pass through the cooling trough 02. The air knife 03 ensures effective strand drying prior to cutting. The residual moisture after strand drying evaporates in the evaporation section. The feed tools of the strand pelletizer 04 catch the polymer strands and direct them to the cutting tools where the strands are cut into pellets. The pellets are classifi ed, cooled, and conveyed in subsequent operations 05. The cooling water is fi ltered and temperature controlled in a process water unit 06 and then returned to the cooling trough.
Inquiry system
Configure your own product according to your requirements and needs. If you are unsure of the configuration, provide us in the notes the necessary information about the existing sensor or product, even a competitor. We will be happy to help you find an alternative MAAG products. If your request is urgent, let us know. We will do our best to help you resolve this situation to your satisfaction as quickly as possible. If we have all the information, we are able to offer a model with minor differences.
If you need more information do not hesitate to contact us.
MAAG Configuration code
​​TECHNICAL DATA
Model:

PRIMO 100 E

PRIMO 200 E

Operating width:

100 mm
200 mm

Drive system:

AC motor with belt drive

Drive power:

5,5 kW

7,5 kW

Feeding speed with 3 mm granulate length:

30-120 m/min

Number of strands at 75% occupancy density and 3 mm granulate diameter:

20

40
Throughput rates [kg / h] *:
Throughput rates [kg / h] *:

Density [g/cm3]

PRIMO 100 E

PRIMO 200 E

PP, PE:

0,91

750

1500

GPPS, SAN:

1,04

750

1500

ABS, HIPS:

1,04

750

1500

PMMA:

1,18

750

1500

PET, PBT:

1,31

600

1200

PA 6, PA 6.6:

1,14

600

900 (30)

PET, PBT, PA, PP + 15 bis 50 % Glasfaser:

1,00

570 (16)

780 (22)

1,55

800 (16)

1100 (22)

Thermoplastische Elastomere:

1,10

750

1500

Masterbatch ab 40 % Füllgrad:

1,30

750

1500

* With 3 mm pellet length and 3 mm pellet diameter and maximum number of strands.