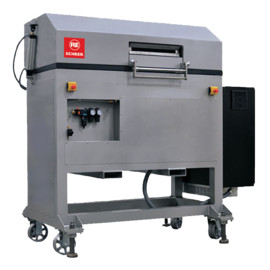 S3500 Series
The S3500 Series Strand Pelletizer has been engineered to provide easy, tool-less entry into the stainless steel cutting chamber for strand pelletizing and dry cut pelletizing. The "Slide" Series pelletizers are designed to substantially reduce maintenance and cleaning time for polymer manufacturers. The front section of these plastic pelletizers is mounted on a linear slide mechanism allowing access into the cutting chamber. Maintenance and cleaning of the feedrolls, doctor blade, and bed knife are quick and easy.
Inquiry system
Configure your own product according to your requirements and needs. If you are unsure of the configuration, provide us in the notes the necessary information about the existing sensor or product, even a competitor. We will be happy to help you find an alternative MAAG products. If your request is urgent, let us know. We will do our best to help you resolve this situation to your satisfaction as quickly as possible. If we have all the information, we are able to offer a model with minor differences.
If you need more information do not hesitate to contact us.
MAAG Configuration code
​​TECHNICAL DATA
S3500 Series Specifi cations:

S3508 (GP)

S3512 (GP)
S3516 (GP)
S3520 (GP)
S3524 (GP)
S3532 (GP)
Rotor Diameter:

12" (305 mm)

Rotor Widht (Nominal):
8" (203 mm)
12" (305 mm)
16" (405 mm)
20" (510 mm)
24" (610 mm)
32" (812 mm)
Feed Widht (Nominal):
8" (203 mm)
12" (305 mm)

16" (405 mm)

20" (510 mm)

24" (610 mm)

32" (812 mm)

Motor Size (AC Variable Speed):
20 HP (15 kW)
25 HP (18,5 kW)
30 HP (22 kW)
40 HP (30 kW)
50 HP (37 kW)
60 HP (45 kW)
Strand Ratings (1/8" or 3 mm Ø):
45 (20)
75 (30)
112 (40)
145 (50)
162 (60)
196 (80)
Satellite Tipped Rotor:
48, 60, 72
Dual Drive
Optional
Wear Package (for abrasive materials):
Optional (Standard on GP)
Solid Carbide Bolt on rotor for GP
4, 6, 8, 12
Maximum Capacity (Lb / hr)
3,500 Lb/hr (1,590 kg/hr)
5,500 Lb/hr (2,495 kg/hr)
8,000 Lb/hr (3,630 kg/hr)
10,500 Lb/hr (4,760 kg/hr)
11,750 Lb/hr (5,330 kg/hr)
14,200 Lb/hr (6,450 kg/hr)