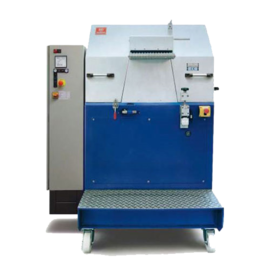 SGS 200-L / SGS 300-L / SGS 400-L
The strand pelletizers of the SGS series are used for the production of thermoplastic pellets for strand pelletizing and dry cut pelletizing. In order to withstand everyday production conditions, the technology of a pelletizer must be extremely robust, which is exactly how the technology is in a Scheer pelletizer. A Scheer pelletizer offers a unique combination of longevity, economy, performance, and quality thanks to its compact design, deposit-free cutting chamber, double shell design, and perfect fine tuning of the cutting tools.
Inquiry system
Configure your own product according to your requirements and needs. If you are unsure of the configuration, provide us in the notes the necessary information about the existing sensor or product, even a competitor. We will be happy to help you find an alternative MAAG products. If your request is urgent, let us know. We will do our best to help you resolve this situation to your satisfaction as quickly as possible. If we have all the information, we are able to offer a model with minor differences.
If you need more information do not hesitate to contact us.
MAAG Configuration code
​​TECHNICAL DATA
Pellrtizer Type:

SGS 200-L

SGS 300-L

SGS 400-L

Working width:

mm

200

300

400

Strand speed1 :

m/min

30-120

30-120

30-120

max. No. of Strands2 :

ca.

40

60

80

Power:

kW

11

15

18,5

Type of Drive:

měnič

PRODUCT

Spec. Gravity (g/cm3 )

Throughput kg/h Pellet Dimensions (mm), Ø 3 x 3 longss

PP, PE

0,90

1715

2575

3435

PA 11, P 12

1,0

1905

2860

3815

PMMA, GPPS, SAN, ASA

1,05

2000

3005

4005

HIPS, ABS

1,05

2000

3005

4005

PA6 n.e (dia 2,5 x 2,5 mm long)

1,10

1515-52 Strands

2270-78 Strands

3030-104 Strands

PUR

1,10

2095

3145

4195

PA6.6

1,15

1970

2960

3725

PET, PBT, PC

1,20

2060

3090

3890

PET, PBT, PC, PA6.6, PA6 +15 - 50 & GF

1,30

1980

2790

3470

Dimensions

A

mm

190

290

390

B

mm

206

422

450

C

mm

840

940

1040

D

mm

1260

1360

1460

E

mm

950

1050

1150