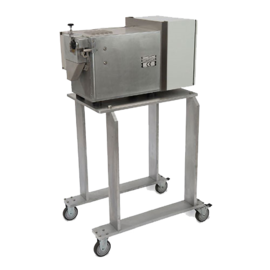 SGS 25-E4
The extremely compact and robust lab pelletizer SGS 25-E4 for strand pelletizing and dry cut pelletizing is based on the proven technology of the SGS E-series. It features many of the functions and advantages of its popular "big brothers." On a laboratory scale, real full-scale trials can be carried out with the SGS 25-E4. Two independently- controllable frequency converters permit infinitely variable pellet length adjustment.
Inquiry system
Configure your own product according to your requirements and needs. If you are unsure of the configuration, provide us in the notes the necessary information about the existing sensor or product, even a competitor. We will be happy to help you find an alternative MAAG products. If your request is urgent, let us know. We will do our best to help you resolve this situation to your satisfaction as quickly as possible. If we have all the information, we are able to offer a model with minor differences.
If you need more information do not hesitate to contact us.
MAAG Configuration code
​​TECHNICAL DATA
Working width:

25 mm

Drive power:

0.75 kW

Max. no. of strandsl 3 Ø 3 mm :
3 Ø 3 mm
Strand speed 1):
5.3 - 30 m / min
Throughput 2):
30 kg / h
Cutting edges bed knife:
4
No. of teeth cutter rotor
4, 6, 12
Max. RPM of cutter rotor
1,000 UPM / RPM
Noise level 3):
75 - 80 dB (A)
The limitation of use depends on the operating conditions. Please contact us for specifi c applications.
1) Optional: Low strand speed ranges for meeting special lab requirements with low output.
2) At 3 mm strand diameter, spec. gravity 1,0 g/cm³, strand speed 30 m/min.
3) Depends on product and strand speed. Technical Data are subject to change without notice