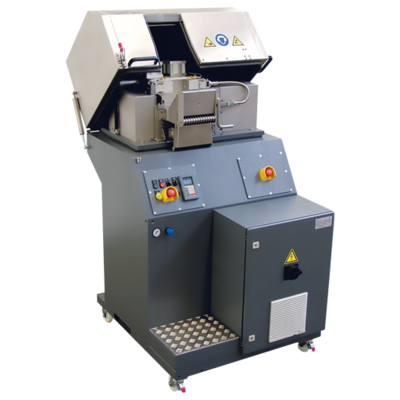 PRIMOPlus for pultruded LFT pellets
During production of LFT long-fi ber pellets using the pultrusion method, fi ber strands are drawn continuously through a polymer melt and the individual fi bers are embedded in the polymer matrix. After cooling, the resulting fi ber/polymer strands are chopped continuously to form pellets. Our LFT rotors fi t our PRIMOPLUS and M-ASG pelletizing systems.
Inquiry system
Configure your own product according to your requirements and needs. If you are unsure of the configuration, provide us in the notes the necessary information about the existing sensor or product, even a competitor. We will be happy to help you find an alternative MAAG products. If your request is urgent, let us know. We will do our best to help you resolve this situation to your satisfaction as quickly as possible. If we have all the information, we are able to offer a model with minor differences.
If you need more information do not hesitate to contact us.
MAAG Configuration code
TECHNICAL PARAMETERS
| | | | | | | |
| --- | --- | --- | --- | --- | --- | --- |
| | | PRIMOPlus 100 | PRIMOPlus 200 | PRIMOPlus 300 | PRIMOPlus 400 | PRIMOPlus 600 |
| | Feed width: | 100 mm | 200 mm | 300 mm | 400 mm | 600 mm |
| | Drive system: | AC motor with gear or belt drive | AC motor with gear or belt drive | AC motor with gear or belt drive | AC motor with gear or belt drive | AC motor with belt drive |
| | Drive power: | 3 - 5.5 kW | 5.5 - 7.5 kW | 7.5 - 11 kW | 11 - 18.5 kW | 15 - 30 kW |
| | Feed speeds: | 5 - 50* m/min | 5 - 50* m/min | 5 - 50* m/min | 5 - 50* m/min | 5 - 50* m/min |
| | No. of strands: | 15 | 25 | 40 | 60 | 80 |
| | Pellet length: | 5 - 15 mm | 5 - 15 mm | 5 - 15 mm | 5 - 15 mm | 5 - 15 mm |