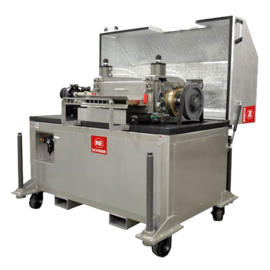 S3000 Pultrusion Series
New extrusion technology of strand pelletizing and dry cut pelletizing is helping compounders of long fiber reinforced materials reach faster line speeds. Reduction Engineering Scheer was asked to specifically design a plastic pelletizer for better strand control and improve the pellets' shape and cut quality. Traditionally, pultrusion pelletizers were fed strands by a belt puller only. The S3000 Series has been fitted with a front end feedroll mechanism. Coupled with the puller, the feedrolls ensure the strand control necessary for pellet accuracy and quality.
Inquiry system
Configure your own product according to your requirements and needs. If you are unsure of the configuration, provide us in the notes the necessary information about the existing sensor or product, even a competitor. We will be happy to help you find an alternative MAAG products. If your request is urgent, let us know. We will do our best to help you resolve this situation to your satisfaction as quickly as possible. If we have all the information, we are able to offer a model with minor differences.
If you need more information do not hesitate to contact us.
MAAG Configuration code
​​TECHNICAL DATA
| | | | | |
| --- | --- | --- | --- | --- |
| | Pelletizer Specifications | 3016 | 3024 | 3032 |
| | Rotor Diameter: | 12" (305 mm) | 12" (305 mm) | 12" (305 mm) |
| | Rotor Width (Nominal): | 16" (406 mm) | 24" (610 mm) | 32" (812 mm) |
| | Feed Width (Nominal): | 16" (406 mm) | 16" (406 mm) | 16" (406 mm) |
| | Motor Size (AC Variable Speed): | 30 HP (22.37 kW) | 40 HP (29.83 kW) | 60 HP (44.74 kW |
| | Strand Ratings (1/8" or 3 mm Diameter): | 40 | 60 | 80 |
| | Standard Rotor Speed (Max RPM): | Based on Application | Based on Application | Based on Application |
| | Solid Carbide Bolt On Rotor: | 4, 6, 8, 12 | 4, 6, 8, 12 | 4, 6, 8, 12 |
| | Dual Drive: | Optional | Optional | Optional |
| | Wear Package Standard (for abrasive materials): | Standard | Standard | Standard |