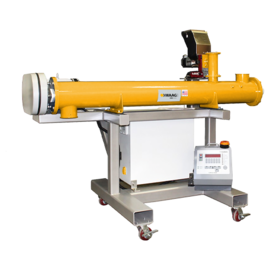 COLORex Color Mixer
The COLORex Color Mixer is used to mix product in-line with a ambient pulverizer and color pulverizer to eliminate the cleaning time of a central mixer. It can also be used off-line with a loader system and multiple feeders. The mixer is a great alternative to high-speed mixers which are time-consuming and costly to clean and maintain. The COLORex Color Mixer allows the operator to color natural and raw granulates directly from the pulverizer or a silo.
Inquiry system
Configure your own product according to your requirements and needs. If you are unsure of the configuration, provide us in the notes the necessary information about the existing sensor or product, even a competitor. We will be happy to help you find an alternative MAAG products. If your request is urgent, let us know. We will do our best to help you resolve this situation to your satisfaction as quickly as possible. If we have all the information, we are able to offer a model with minor differences.
If you need more information do not hesitate to contact us.
MAAG Configuration code
TECHNICAL PARAMETERS
COLORex™

Material:

depending on grinding fi neness

Fineness:

gravimetric 0.01-0.4% (Pigments) volumetric (Liquid Colors)

Dosing:

Standard: Optional:

Stainless Steel

Materials:

Mixer pipe

Stainless Steel, adjustable

Controls:

Mixer blades

manual / Integration into PLC of the pulverizer possible

Dimensions:

Siemens

2,125 x 1,008 x 2,054 mm (height adjustable)

1) further materials upon request