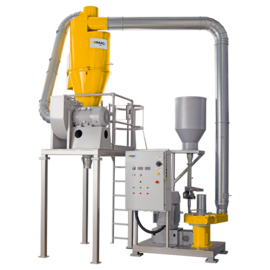 Pulverizer REX basic
The REX basic pulverizer was designed for users who do not require tight particle distribution specification. It can be used to pulverize a wide variety of materials. This air-cooled pulverizer serves compounding, extrusion, molding, and recycling markets. To further enhance its process capabilities, several different process cooling innovations can be added to the machine. Some engineered polymers require extremely low temperatures to enable processing. These cooling options make this unit a viable alternative to a full cryogenic plastic pulverizer.
Inquiry system
Configure your own product according to your requirements and needs. If you are unsure of the configuration, provide us in the notes the necessary information about the existing sensor or product, even a competitor. We will be happy to help you find an alternative MAAG products. If your request is urgent, let us know. We will do our best to help you resolve this situation to your satisfaction as quickly as possible. If we have all the information, we are able to offer a model with minor differences.
If you need more information do not hesitate to contact us.
MAAG Configuration code
​​TECHNICAL DATA
| | | |
| --- | --- | --- |
| | Engine [kw] | 22 |
| | Input material [mm] | ≤ 10,0 |
| | Fineness [µ] | approx. 800-1000 |
| | Discs No./Diameter [mm] | 2 / 432 |
| | Ejection [kg/h] | 250 - 700 |
| | Material | LDPE, HDPE, PVC, ABS, … Note: further materials up on request. |
| | Controls | Siemens - manual |
| | Dimensions (L x W x H in mm) | 3,818 x 3,701 x 4,163 |