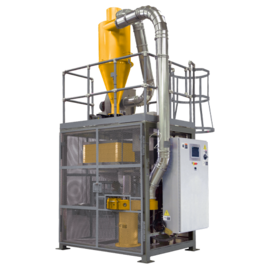 Pulverizing System 85XLP
The Reduction Engineering pulverizer 85XLP, with its compact design, is the perfect fit for the medium throughput range or the ideal solution for in-house production. This unit of the cryogenic plastic pulverizer, with its integrated PLC controls, assures fully automatic production at a high level with very little operating effort. As with all Reduction Engineering pulverizers, this air-cooled pulverizer incorporates our state-of-the-art technology that facilitates quick clean-downs and change-over times.
Inquiry system
Configure your own product according to your requirements and needs. If you are unsure of the configuration, provide us in the notes the necessary information about the existing sensor or product, even a competitor. We will be happy to help you find an alternative MAAG products. If your request is urgent, let us know. We will do our best to help you resolve this situation to your satisfaction as quickly as possible. If we have all the information, we are able to offer a model with minor differences.
If you need more information do not hesitate to contact us.
MAAG Configuration code
​​TECHNICAL DATA
| | | |
| --- | --- | --- |
| | Input material [mm] | ≤ 10,0 |
| | Fineness [µ] | 500 |
| | Discs No./Diameter [mm] | 2 / 432 |
| | Ejection [kg/h] | 270 - 450 |
| | Material | LDPE, HDPE, PVC, ABS, … Note: further materials up on request. |
| | Controls | Siemens - PLC with Touch Screen |
| | Dimensions (L x W x H in mm) | 2,400 x 1,562 x 4,486 |