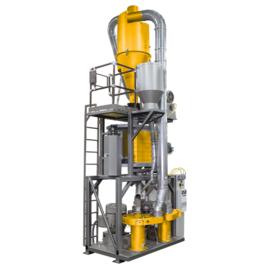 Pulverizing System REX duo
The REX duo series of cryogenic plastic pulverizers serves the demanding end user with expectations of best quality powder and highest throughput rates. Efficient utilization of its entire available power makes the REX duo Series the most economical ambient pulverizer in relation to kilograms produced versus power consumed. A small footprint (owing to its very compact dimensions) make this the right choice for the serious producer or toll processor. The duoPLUS version outperforms all other machines of its size in the market.
Inquiry system
Configure your own product according to your requirements and needs. If you are unsure of the configuration, provide us in the notes the necessary information about the existing sensor or product, even a competitor. We will be happy to help you find an alternative MAAG products. If your request is urgent, let us know. We will do our best to help you resolve this situation to your satisfaction as quickly as possible. If we have all the information, we are able to offer a model with minor differences.
If you need more information do not hesitate to contact us.
MAAG Configuration code
​​TECHNICAL DATA
| | | |
| --- | --- | --- |
| | Input material [mm] | ≤ 10,0 |
| | Engine [kw] | 55 / 22 |
| | Fineness [µ] | 500 |
| | Discs No./Diameter [mm] | 4 / 432 |
| | Ejection [kg/h] | 500 - 700 |
| | Material | LDPE, HDPE, ABS, … Note: further materials up on request. |
| | Controls | Siemens - PLC with Touch Screen |
| | Dimensions (L x W x H in mm) | 2,337 x 1,524 x 5,683 |