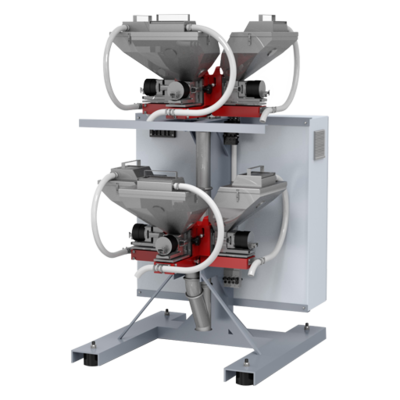 COLOR DOSING
COLOR DOSING
Precise and quick dosing through optimal dosing precision and flexible and automatic process control
Precise dosing is a prerequisite for high-quality products. Complex color recipes in particular require trouble-free solutions during the dosing process. Optimum dosing precision and flexible and automated process control are decisive criteria – requirements that our dosing system meets. The system can be expanded modularly, and thus grows with the needs of plant operators.
The color correction unit COLOR DOSING makes it possible to perform color adjustments during compounding particularly quickly and easily. The unit consists of four to six gravimetric dosing scales for different monopigment concentrates per extrusion line. Low dosing amounts are sufficient for color correction. The color changes achieved in this way are already measurable a few minutes after the dose and are displayed graphically by means of software.
Inquiry system
Configure your own product according to your requirements and needs. If you are unsure of the configuration, provide us in the notes the necessary information about the existing sensor or product, even a competitor. We will be happy to help you find an alternative MAAG products. If your request is urgent, let us know. We will do our best to help you resolve this situation to your satisfaction as quickly as possible. If we have all the information, we are able to offer a model with minor differences.
If you need more information do not hesitate to contact us.
Configuration code
TECHNICAL PARAMETERS
| | | |
| --- | --- | --- |
| | Dosing capacity: | 200g/h - 6kg/h |
| | Filling capacity: | ca. 50 - 150 kg/h |
| | Air requirements for 6 dosing devices: | ca. 2 cbm/min |
| | Hopper: | ca. 12 l |