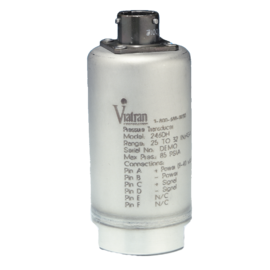 Model 246 Pressure Sensor
Viatran's 246 pressure sensor is an electronic pressure transmitter designed to accurately measure barometric pressure to within 0.01 in HgA. The 346 measures pressures over standard ranges of 25 in HgA to 32 in HgA.
Inquiry system
Configure your own product according to your requirements and needs. If you are unsure of the configuration, provide us in the notes the necessary information about the existing sensor or product, even a competitor. We will be happy to help you find an alternative Viatran product. If your request is urgent, let us know. We will do our best to help you resolve this situation to your satisfaction as quickly as possible. If we have all the information, we are able to offer a model with minor differences, which is in stock and you can have another product available the next day.
If you need more information do not hesitate to contact us.
Viatran Configuration Code:
PERFORMANCE
| | | |
| --- | --- | --- |
| | Full Scale Pressure Ranges (FSPR): | 25" to 32" HgA standard (Optional ranges can be factory set from 16" HgA lower range limit to 35" HgA upper range limit, 7" Hg span minimum.) |
| | Nonlinearity (Best Fit Straight Line): | |
| | Repeatability: | |
| | Hysteresis: | ≤±0.007" Hg |
| | Response Time | <±5 mSec |
| | Zero Repeat After 100° F Temperature Shift | < ±0.007" Hg |
| | Compensated Temperature Range: | 70° F to +170° F |
| | Process Media Temperature Range: | -40° F to +185° F |
| | Ambient Operating Temperature Range: | -40° F to +250° F |
| | Storage Temperature Limits: | -40° F to +250° F |
| | Temperature Effect on Zero: | < ±0.01" Hg per 1° F |
| | Temperature Effect on Span: | < ±0.01" Hg per 1° F |
ELECTRICAL
Supply Voltage:

Power Supply Regulation:

Output Signal:

Load Resistance:

≥ 10K Ohms

Zero Balance:

Actual output at 25" HgA will be etched onto body. Tolerance of stated value is <±0.01" Hg of actual.

Span:

Actual output at 32" HgA will be etched onto body. Tolerance of stated value is <±0.01" Hg of actual.

Circuit Protection:

Reverse polarity protected. Output may be short circuited indefinitely. Input circuit protected to 1000 Volts

Insulation Resistance

≤ 5nS

Electrical Connections

Bendix PT02E-10-6P, mates with PT06E-10-6S (SR)

Pin Outs

Pin A + Power / Signal
Pin B - Power / Signal
Pin C No Connection
Pin D No Connection
Pin E No Connection
Pin F No Connection

Shell

Ground
MATERIALS OF CONSTRUCTION
| | | |
| --- | --- | --- |
| | | 316 Stainless steel, Viton "O"-Ring |
| | | |
| | Weight | |
| | Identification | Laser etched onto body |
MECHANICAL
| | | |
| --- | --- | --- |
| | Pressure Connection: | |
| | Proof Pressure: | |
| | Burst Pressure: | |
| | Pressure Cavity Volume: | 0.25 cubic in. |
| | Mounting: | May be supported by pressure port. |
OPTIONS
| | | |
| --- | --- | --- |
| | Alternate Electrical Connectors | |
| | BA | (K)PTIH-12-8P |
| | BE | Aphenol 165-15 |
| | BG | (K)PTIH-10-6P |
| | BI | DIN 43650 |
| | BK | WK4-32S |
| | BL | WK6-32S |
| | BM | WKA7-32S |
| | BN | (K)PTIH-8-4P |
| | BQ | (K)PT02H-10-6P |
| | BR | CF3102E-14S-6P |
| | BS | CF3102E-14S-5P |
| | Performance options | |
| | DG | Improved temperature performance to 0.00072" Hg per 1° F (zero and span) |
| | DH | Special ranging |
| | EA | Twenty point calibration run at specified temperature |
| | GE | Buna "O"-Ring |
| | NH | Custom identification |
| | Alternate Pressure Ports | |
| | YA | MS33649-04 |
| | YH | 1/8" NPT(M) |
| | YI | 1/8" NPT(F) |
| | YK | 1/4" NPT(M) |
| | YN | 3/8" NPT(F) |
| | YP | 1/2" NPT(M) |
| | YR | 1/2" NPT(F) |
| | Note: | Note: Application of some available options may affect standard performance. Consult your Viatran representative for details. |