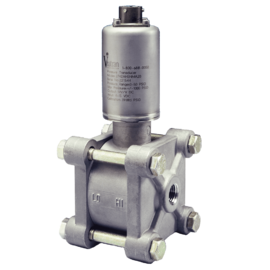 Differential Pressure Transducer Model 274
The Model 274 Differential Pressure Transducer measures pressure ranges from 5" W.C. to 100 PSID and provides a 0-5 VDC signal. All wetted surfaces, including flanges and diaphragms, are constructed of 316 stainless steel with a sealing Viton® O-Ring for excellent corrosion resistance. A standard 1,000 PSI static line pressure and single side overpressure rating are featured with these transducers. For applications that require a higher static line pressure rating, 3,000 PSI is available with optional flanges.
Model 274 also features an internal calibration circuit for easy field set-up, a quick disconnect electrical connection and external zero and span controls. A special option called fast response enables the unit to accurately respond to changes in pressure in approximately one tenth of the standard time.These features make the Model 274 ideal for most industrial test and flow applications.
Inquiry system
Configure your own product according to your requirements and needs. If you are unsure of the configuration, provide us in the notes the necessary information about the existing sensor or product, even a competitor. We will be happy to help you find an alternative Viatran product. If your request is urgent, let us know. We will do our best to help you resolve this situation to your satisfaction as quickly as possible. If we have all the information, we are able to offer a model with minor differences, which is in stock and you can have another product available the next day.
If you need more information do not hesitate to contact us.
Viatran Configuration Code:
PERFORMANCE
Full Scale Pressure Ranges
0-5, 10, 20, 50, 100, 300, 750" W.C.D.
0-15, 50, 100 PSI
Nonlinearity (Best Fit Straight Line)

≤±0.15% FSO

Hysteresis

≤±0.08% FSO

Repeatability

≤ ±0.06% FSO

Full Scale Output (FSO)

5 Vdc at 70° F

Resolution

Infinite

Long Term Stability

≤±0.1% FSO per 6 months

Zero Shift with Base Pressure
5" WC to 100" WC : ≤ 4%
300" WC to 100 PSI: ≤ 6
Span Shift with Base Pressure
5" WC to 100" WC : 0 to -6%
300" WC to 100 PSI : 0 to -4
Zero Shift After 1000 PSI Overload
Single Side: ≤± 0.1% FSO
Alternate Sides: ≤±0.5% FS
Compensated Temperature Range

70°F to 170°F (21°C to 76°C)

Operating Temperature Range

0° F to +200° F

Storage Temperature Limits

-40°F to +250°F (-40°C to 121°C)

Temperature Effect on Zero

≤± 2.0% FSO per 100° F

Temperature Effect on Span

≤± 2.0% FSO per 100° F
ELECTRICAL
Supply Voltage:

Power Supply Regulation

≤±0.0001% FSO per Volt change over the supply voltage range

Output Signal

Load Impedance

3000 Ohms minimum

Current Draw

3.8 mA

Zero Adjustment

± 10 % FSO min. / ±20% FSO max.

Span Adjustment

± 10% FSO min. / ±20% FSO max.

Calibration Signal

80% of the FSPR, by shorting pins E & F

Calibration Signal Accuracy

≤±0.1% of the stated value

Circuit Protection

Reverse polarity protected

Insulation Resistance

>1000 MegOhms to case ground at 50 Vdc and 70° F

Response Time

10% to 90% FS Faster response available with NF option.

Electrical Connection

Bendix PT02E-10-6P, mates PT06E-10-6S (SR)

Pin Outs

Pin A + Power
Pin B - Power
Pin C + Signal
Pin D - Signal
Pin E Calibrate
Pin F Calibrat
MATERIALS OF CONSTRUCTION
| | | |
| --- | --- | --- |
| | | 316 Stainless steel and Viton O-Ring |
| | | 304 and 316 Stainless Steel with an Aluminum alloy, black zinc-cobalt plated electrical connector |
| | Weight | 3.5 lbs. (6.5 lbs. with optional flanges) |
| | Identification | |
MECHANICAL
Pressure Connection:

Static Pressure

1000 PSI maximum (3000 PSI - optional)

Proof Pressure

1000 PSI single sided (3000 PSI - optional)

Burst Pressure

1500 PSI (4500 PSI - Optional)

Diaphragm Displacement

0.002 cubic inches at FSPR

Diaphragm Displacement
Standard Flanges: 0.4 cubic inches
Optional Process Flanges : 1.5 cubic inche
Fill Fluid

Dow DC200 Silicone oil

Mounting

May be supported by process piping or by optional mounting bracket
DIMENSION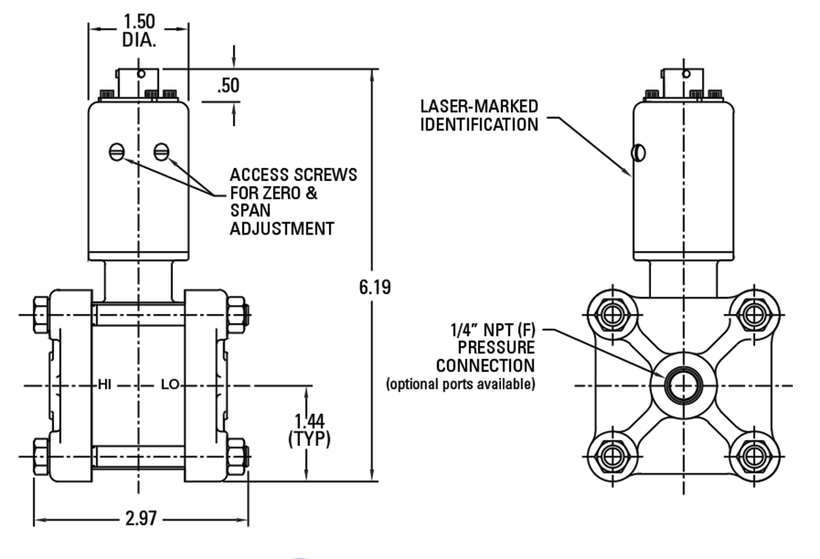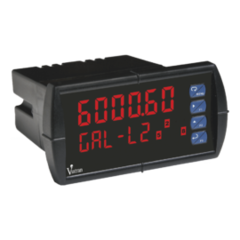 DL-AC-S4NE
The Viatran DL meter boasts specifications and functionality that make it one of the most advanced process meters available.