Model RM570 Pressure Transmitter
All welded construction and stainless steel surfaces makes the RM570 ideal for harsh environments. Viatran's rugged pressure transmitters are designed to withstand heat, vibration, pressure spikes and EMI/RFI caused by the the surrounding equipment.
All Viatran Rolling Mill units are built and configured to order with a choice of four pressure ranges,ensuring you have the best solution for your application.
Inquiry system
Configure your own product according to your requirements and needs. If you are unsure of the configuration, provide us in the notes the necessary information about the existing sensor or product, even a competitor. We will be happy to help you find an alternative Viatran product. If your request is urgent, let us know. We will do our best to help you resolve this situation to your satisfaction as quickly as possible. If we have all the information, we are able to offer a model with minor differences, which is in stock and you can have another product available the next day.
If you need more information do not hesitate to contact us.
Viatran Configuration Code:
PERFORMANCE
Full Scale Pressure Ranges
0-100 Bar (0-1450 psi)
0-150 Bar (0-2175 psi)
0-250 Bar (0-3625 psi)
0-350 Bar (0-5076 psi

Static Error Band

≤±0.25% FSO typical (Includes BFSL, Hysteresis and Repeatability by RSS)

Full Scale Output (FSO)

4-20 mA (16 mA FSO)

Zero and Span Balance

±1% FSO

Response Time

<2 mSec to reach 90% FSO

Temperature Effect on Zero

≤±1% FSO per 100°F (55.5°C)

Temperature Effect on Span
≤±1% FSO per 100°F (55.5°C)
Compensated Temperature

70°F to 170°F (21°C to 76°C)

Operating Temperature

-40°F to 185°F (-40°C to 85°C)

Storage Temperature Limit

-65°F to 185°F (-53°C to 85°C)
ELECTRICAL
Supply Voltage:

Power Supply Regulation Effect

Output Signal

Bridge Impedance

5000 Ohms nominal

Circuit Protection

Varistor protected across the input leads for surges above 40 V and currents to 250 Amps peak with a pulse width of 8x20 μSecs. Reverse polarity protected.

Insulation Resistance

>200 MegOhms to case ground

Electrical Connection - BH (Standard)

6-pin hermetic, bayonet-style, 303 SST weld mount connector

Pin Outs (standard)

Consult engineering for alternative configuration

Wire Color Codes

Pin A +Power/Signal

Pin B No Connection

Pin C -Power/Signal

Pin D No Connection

Pin E No Connection

Pin F No Connection

MATERIALS OF CONSTRUCTION
| | | |
| --- | --- | --- |
| | | 15-5 PH and 316 stainless steel |
| | | |
| | Shock Limitation | |
| | Weight | 17 oz. (0.482 kilograms) typical |
| | Identification | Laser etched onto body |
| | Enclosure | Classification IP68 |
MECHANICAL
Pressure Connection:

G 1/2A BSP(M) with Bleed Port*
G 1/2A BSP(M) without Bleed Port
G 1/4B BSP(M) without Bleed Por

Proof Pressure:

Up to 4 times FSPR (1378 Bar* (20,000 psi),whichever is less

Burst Pressure:

≥ 6 to 10 times FSPR dependent on sensor, consult engineering for details

Mounting

Supported by process piping or optional mounting bracke

Identification

Laser etched onto body
OPTIONS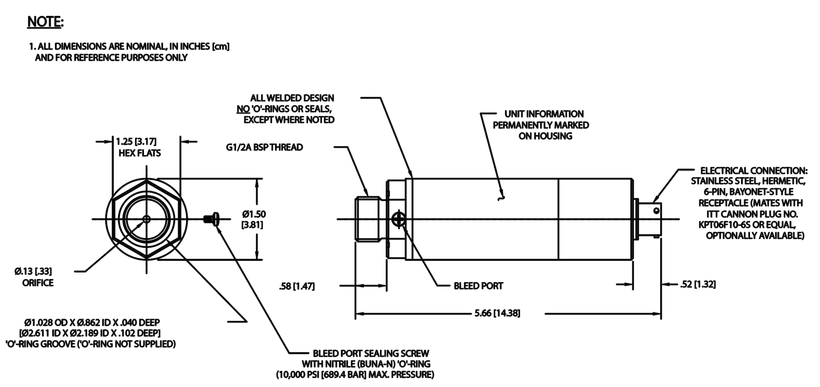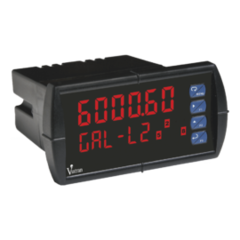 DL-AC-S4NE
The Viatran DL meter boasts specifications and functionality that make it one of the most advanced process meters available.