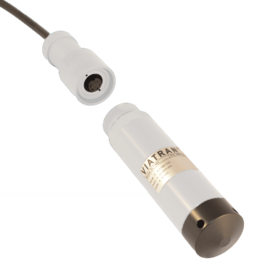 Model 592 Detachable Level Transmitter
The Model 592 Detachable Level Transmitter allows for a quick sensor swap without the removal of the installed cable. No special tools are required. Simply pull up the sensor, twist the sensor coupling sleeve till it is no longer engaged and then simply separate the two halves.
Common ranges of 592 are available with 2 day turn as part of Viatran's RapidShip Program.
592 is constructed of a Polypropylene High Temperature (PP-HT) housing and 316L stainless steel sensor module, with a polyurethane cable as standard. Different cable materials and o rings are available.
Use it to measure Liquid Level and Depth for Water and Waste Water applications, at Lift Stations, Reservoirs and Dams, Rivers, Holding Ponds, Wells, In-ground / Above Ground Tanks and with Inventory Tank Gauging.
Ranges from 0-40"WC thru 15 'WC have combined accuracy of +/- .50% FSO
Ranges greater than 15' WC have combined accuracy of +/- .35% FSO
Viatran also offers a complete range of accessories for use in level applications such as a surge protector, cable hangers and weights, meters and junction boxes.
Replacement sensor heads and/or cables can be purchased separately
Inquiry system
Configure your own product according to your requirements and needs. If you are unsure of the configuration, provide us in the notes the necessary information about the existing sensor or product, even a competitor. We will be happy to help you find an alternative Viatran product. If your request is urgent, let us know. We will do our best to help you resolve this situation to your satisfaction as quickly as possible. If we have all the information, we are able to offer a model with minor differences, which is in stock and you can have another product available the next day.
If you need more information do not hesitate to contact us.
Viatran Configuration Code: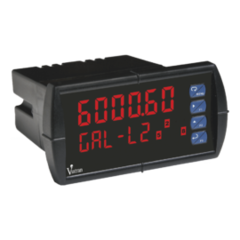 DL-AC-S4NE
The Viatran DL meter boasts specifications and functionality that make it one of the most advanced process meters available.
PERFORMANCE
Pressure Ranges

0 - 40" W.C. up to 0 - 335 Ft W.C. (Or equivalent in Meters or PSI

Accuracy [Combined Non-Linearity (BFSL), Hysteresis & Repeatability]
For ranges ≥ 15 Ft. W.C. ≤ +/-0.35% FSO
For ranges < 15 Ft. W.C. ≤ +/- 0.50% FSO
Compensated Temperature Range

32° to 122° F (0 to 50° C)

Operating Temperature Range

32° to 122° F (0 to 50° C) Note: Medium must not freeze near sensor

Storage Temperature Range

14° to 122° F (-10 to 50° C)

Long Term Stability (%FSO)

≤ +/- 0.1% FSO / year (At reference conditions

Thermal Effect on Zero

≤ +/- 1.1% FSO per 100° F

Thermal Effect on Span

≤ +/- 1.1% FSO per 100° F
ELECTRICAL
| | | |
| --- | --- | --- |
| | Output Signal | |
| | Supply Voltage | |
| | Power Supply Regulation | |
| | Circuit Protection | Reverse polarity protected, CE marked |
| | RFI / EMI | CE EMC compliant as per IEC EN 61326 |
| | Voltage Spike Protection | Withstand 1000 volt spike per EN 61000 |
| | Response Time | <10 mSec |
MATERIALS OF CONSTRUCTION
| | | |
| --- | --- | --- |
| | | PP-HT (Polypropylene High Temperature) |
| | | |
| | O-ring Seals | FKM (Standard) or EPDM (Optional) |
| | Protective Cap | POM (Polyoxymethylene) |
MECHANICAL
| | | |
| --- | --- | --- |
| | Pressure Connection | |
| | Ingress Protection | |
| | Overpressure Limit | |
| | Burst Pressure | 5x Minimum |
| | Weight | 0.9 lbs. (without cable) |
OPTIONS
| | | |
| --- | --- | --- |
| | EA | |
| | PW | Calibrate Transmitter with Meter / Display |