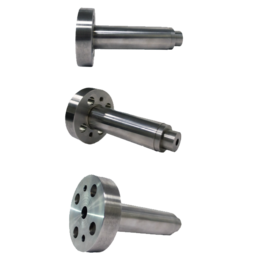 Adapters Button Seal
Process adapters are an accessory to all pressure and temperature sensors, allowing a 1 / 2-20 UNF (Unified National Fine nt) melt pressure sensor to be installed in the mounting port using a flange. The use of the flange is compatible with all sensors of the given dimensions and all manufacturers. Each adapter and sealing elements are made to order depending on the dimensions and mounting port. Flange extensions are available as one-piece constructions or detachable threaded connections. The design of the flange is specific to the one used and depends on the dimensions, thickness and diameter of the mounting screws. The price and production time also depends on the application. The adapter and flange body construction material used is standard 17-4 stainless steel (17-4 PH SST), UNS S17400, but other materials are available. The outer seal is pressure dependent and can be made of various materials such as 303 stainless steel, parkerized carbon steel, 6061 aluminum, Hastelloy or other material.
Inquiry system
Configure your own product according to your requirements and needs. If you are unsure of the configuration, provide us in the notes the necessary information about the existing sensor or product, even a competitor. We will be happy to help you find an alternative Dynisco product. If your request is urgent, let us know. We will do our best to help you resolve this situation to your satisfaction as quickly as possible. If we have all the information, we are able to offer a model with minor differences, which is in stock and you can have another product available the next day.
If you need more information do not hesitate to contact us.
Dynisco Configuration Code:
Performance characteristics:
| | | |
| --- | --- | --- |
| | Pressure range: | Depends on sensor (min) 10,000 psi (max) |
| | Temperature range: | |
Mechanical characteristics:
| | | |
| --- | --- | --- |
| | Adapter body and flange: | 17-4 stainless steel |
| | Seal: | It depends on the pressure |
Approval and certification:
| | | |
| --- | --- | --- |
| | ISO: | ISO 9001: 2008 production environment |
| | Compatible with approved sensors: | |
Note: The flange process connection depends on the application. Adapters are made to order depending on sizes and dimensions. The part number is determined after a technical inspection and specifications for the application.
Flange diagram - body

Flange diagram

Adapter specifications​