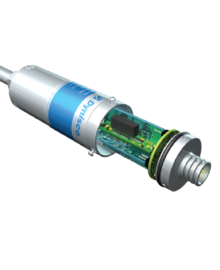 Guardian function
An extension of the series called the Guardian Series. Guardian meets the directive without the cost and hassle of redundant sensors and external modular relays. The Guardian also complies with the requirements of NFPA 79 A.9.2, A.9.4.1, A. 9.4.3.2 as a way of assessing the safe aspects of management functions. Select the relay switch threshold between ten different options from 10-100% of the full sensor pressure range. The Guardian sensors are self-certified on the basis of evaluation reports from the relevant exida třetí third party. The Guardian series sensors have undergone extensive FMEDA (Failure Effects and Diagnostics) analysis. FMEDA reports show that the products have PL'c ') for all listed sensors and SIL1 (mV / V and HART-mA sensors) or SIL2 (mA output sensors) sensors.
The information contained in the FMEDA message may be used in the customer's system as part of the overall qualification of the equipment in the PL'c or SIL filling system. Each sensor meets the power level "c" (PL'c '), as defined in the Machinery Directive, without the need for sedundant sensors, a comparator module or extra installation. Performance level "d" (PL'd ') can be achieved by installing two sensors in a Category 3 configuration.
Compatible Dynisco models, with which this function can be optionally ordered (only for 8-pin connector, without the possibility of secondary output 4-20mA intended for temperature measurement), MDA410, MDA420, MDA460, TDA412, TDA432, TDA463, MDT420F, MDT460F, TDT412F, TDT432F , TDT463F, PT410, PT420, PT460E, PT460XL, PT462E-M10, PT465XL, PT467E, PT467E-M10, PT467XL, TPT420A, TPT463E, PT4604, PT4624, TPT4634.
Performance characteristics:
Specific to the Guardian Series option. Detailed information on the sensor can be found in the data sheet for specific sensors on the manufacturer's or supplier's website.
Guardian requires the use of an 8-pin connector for wiring (screw, not bayonet). The relay is secured under normal operating conditions.

Relay specifications:
Max. switching voltage: 200 VDC; 200 tip Max. switching current: 0.5 Amp
Max. DC current: 1.0 Amp Relay protection: 250mA fuse with current limiting resistor

The relay contact opens in the following faults:

The open Loss of sensor power connection appears

Pressure exceeds the relay threshold selected by the customer at the time of ordering (see Ordering Manual for Selection)

The relay contact opens in the following faults:

The open Loss of sensor power connection appears

Pressure exceeds the relay threshold selected by the customer at the time of ordering (see Ordering Manual for Selection)

Range [lbf.ft.]:
15 ÷ 73
Display accuracy DIN EN ISO 6789-1: 2017-07:

±3%

Length:

405 mm

Use:

For tightening to the right
Approval and self-certification:
| | | |
| --- | --- | --- |
| | CE: | |
| | ISO: | Production environment ISO 9001: 2008 |
| | | EN ISO 13849-1, which meets the performance requirements for the safety part of the control system for safety system "c" (PL'c), when installed according to category 1 |
| | PL'd': | EN ISO 13849-1 meeting the requirements for the safety part of the control system for safety system "d" (PL'd ') when installed in a Category 3 configuration |
| | NFPA 79: | NFPA 79 provisions A.9.2, A.9.4.1, A.9.4.3.2 |
| | SIL1 : | Applicable mV / V and mA-HART sensors |
| | SIL2 : | Used mA sensors |