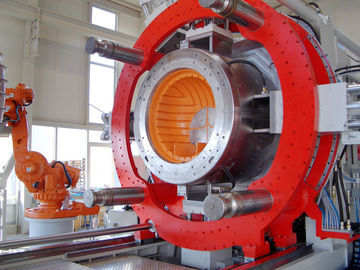 High-capacity injection molding machines for shafts and tanks
Manholes and tanks
Very high injection volumes of up to 180,000 cm3 and an energy-efficient hybrid drive - thanks to this combination, Ettlinger injection molding machines are the perfect solution for the production of large components and systems.
Ettlinger machines have a unique technical advantage in this particular application: a frame specially developed for holding and flexibly positioning the core. Core ejectors become an integral part of the machine. Separate ejectors are no longer necessary for numerous individual molds - leading to a significant and sustainable reduction in production costs.
Over the last few years, accessible 1,000 mm shafts have played an increasingly important role in the wastewater treatment sector and these requirements and demands continue to grow. These shaft systems have a modular structure consisting of an inlet cone, a shaft ring and a shaft bottom with pipe openings; they often have a total height of several meters.

Inquiry system
Configure your own product according to your requirements and needs. If you are unsure of the configuration, provide us in the notes the necessary information about the existing sensor or product, even a competitor. We will be happy to help you find an alternative Ettlinger products. If your request is urgent, let us know. We will do our best to help you resolve this situation to your satisfaction as quickly as possible. If we have all the information, we are able to offer a model with minor differences.
If you need more information do not hesitate to contact us.
Ettlinger Configuration code