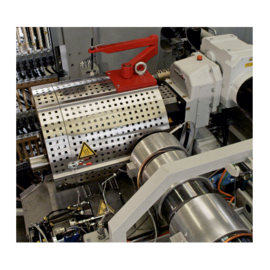 Injection molding machines with integrated ERF filter
If recycled materials are treated by injection molding technology, they must be free of impurities in order to avoid disturbances in the treatment process, which can occur, for example, due to clogging of the nozzles of the hot distribution ducts. These impurities are usually separated by filtration from the melt in a separate regranulation process.
With our injection molding machines, filtration and injection molding processes can be combined on one machine. To this end, our ERF continuous melt filter is integrated between the plasticizing and injection unit, which cleans the contaminated melt in a single process step. Therefore, another regranulation line with melt filtration is no longer necessary. As a result, material processing is much more environmentally friendly and much more energy efficient, and system investment and space requirements are significantly reduced.
Inquiry system
Configure your own product according to your requirements and needs. If you are unsure of the configuration, provide us in the notes the necessary information about the existing sensor or product, even a competitor. We will be happy to help you find an alternative Ettlinger products. If your request is urgent, let us know. We will do our best to help you resolve this situation to your satisfaction as quickly as possible. If we have all the information, we are able to offer a model with minor differences.
If you need more information do not hesitate to contact us.
Ettlinger Configuration code