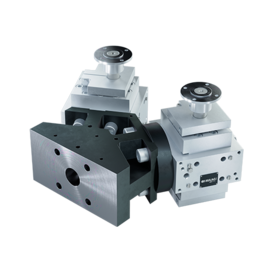 Extrex-Y adapter
Twin outlet gear pump for complex extrusion applications
The extrex⁶ Y-Adaptor unites two extrex x⁶ class gear pumps to ensure optimum efficiency and cost-effectiveness in extrusion systems. The extrex⁶ Y-Adaptor can be used with an extruder to feed two different die packs with a separate, constant melt stream each. Separate discharges from the individual gear wheel pairs are guaranteed thanks to the design and can be adjusted by changing the speed of the individually controlled drives. The extrex x⁶ class gear pump portfolio allows customers to choose between different thrust pieces to suit their application.
Inquiry system
Configure your own product according to your requirements and needs. If you are unsure of the configuration, provide us in the notes the necessary information about the existing sensor or product, even a competitor. We will be happy to help you find an alternative MAAG products. If your request is urgent, let us know. We will do our best to help you resolve this situation to your satisfaction as quickly as possible. If we have all the information, we are able to offer a model with minor differences.
If you need more information do not hesitate to contact us.
Configuration code
TECHNICAL DATA
| | | |
| --- | --- | --- |
| | Viscosity [MPas] | Až 30 000 000 |
| | Temperature [° C] | Až 350 |
SELECTION OF TYPICAL PUMPED MEDIA
| | |
| --- | --- |
| | Polyolefiny |
| | Polyestery |
| | Polyamidy |
| | Polycarbonates |
| | Styrene polymers |
| | Expandable polystyrene |
| | ABS/SAN |
| | Fluoro polymers |
| | TPE |
| | Other polymers on request |
| | Paints and varnishes |
| | Waxes and paraffins |
| | Mineral oils and fats |
| | Fuels |
| | Petrochemical products |
| | Lubricating oil |
OPTIONS
| | |
| --- | --- |
| | Different classes of will |
| | Liquid heating system with filtration |
| | Selection of materials for a specific application |
| | Pressure and temperature sensor holes in the housing |
| | Selection of materials for each application |
| | Cooling for shaft seals |
| | Special types of seals |
ACCESSORIES
| | |
| --- | --- |
| | Support and base frames |
| | Adapter flange |
| | Sensors |
| | Regulation, complex expac® solution |
| | Drive components |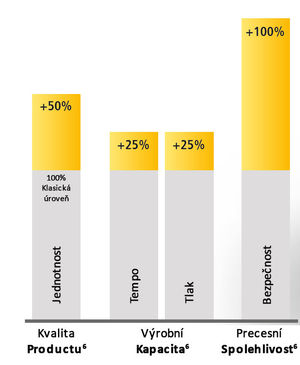 The value of the 6th generation
Simplified linearity
Elimination of incoming pulsations to maximize product uniformity
Protection of processed material
Minimized backflow volume to accelerate polymer flow

6th generation performance
Endurance shaft
Improved resistance to differential pressure increase
Top speed
Excellent flow capacity for increased productivity

Reliability of the 6th generation
Balanced bearings
Unique self-centering shafts
Maximize process stability