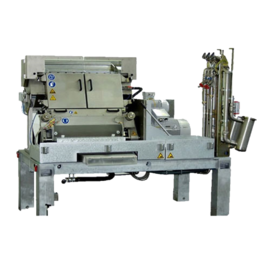 M-USG
The M-USG underwater pelletization system has been producing virgin polymers worldwide for decades. The extremely flexible system guarantees a high level of system availability, especially during continuous operation, and meets the highest quality requirements for cylindrical pellets.
Inquiry system
Configure your own product according to your requirements and needs. If you are unsure of the configuration, provide us in the notes the necessary information about the existing sensor or product, even a competitor. We will be happy to help you find an alternative MAAG products. If your request is urgent, let us know. We will do our best to help you resolve this situation to your satisfaction as quickly as possible. If we have all the information, we are able to offer a model with minor differences.
If you need more information do not hesitate to contact us.
MAAG Configuration code
​​TECHNICAL DATA
Technical data:

M-USG 300 H

M-USG 600 H
M-USG 900 H
M-USG 1200 H
Working width:

300 mm

600 mm
900 mm
1,200 mm
Cutting rotor drive power:
11 kW
18.5 kW
30 kW
37 kW
Feed roll drive power:
5.5 kW
Draw-in speed:
80-350 m/min
Number of strands*:
33-40
66-80
100-120
127-152
Strand guide length:
3,000/4,000/6,000/8,000 mm
Water fl ow:
20 m3 /h
35 m3 /h
45 m3 /h
55 m3 /h
Maximum throughput (kg/h)**:
5,500
11,000
16,000
20,000
* Dependent on product. ** depending on pellet weight and polymer
​​TECHNICAL DATA
Technical data:

M-USG 300 V

M-USG 600 V
M-USG 900 V
M-USG 1200 V
Working width:

300 mm

600 mm
900 mm
1,200 mm
Cutting rotor drive power:
11 kW
18.5 kW
30 kW
37 kW
Feed roll drive power:
5.5 kW
Draw-in speed:
800/1,200/1,500 mm
Number of strands*:
33-60
66-120
100-180
127-228
Strand guide length:
3,000/4,000/6,000/8,000 mm
Water fl ow:
15 m3 /h
30 m3 /h
40 m3 /h
50 m3 /h
Maximum throughput (kg/h)**:
4,200
8,300
12,500
16,000
* Dependent on product. ** depending on pellet weight and polymer