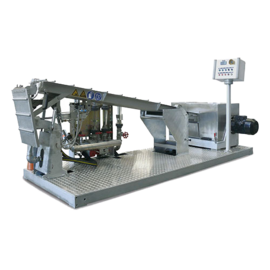 P-USG
The P-USG underwater strand pelletizing systems made by MAAG Automatik have been particularly designed for both the production of virgin polymers with lower throughput rates and for recycling applications. The simple design of the strand pelletizing machine stands for engineeringg reduced to the essentials while featuring high process stability and pellet quality.
Inquiry system
Configure your own product according to your requirements and needs. If you are unsure of the configuration, provide us in the notes the necessary information about the existing sensor or product, even a competitor. We will be happy to help you find an alternative MAAG products. If your request is urgent, let us know. We will do our best to help you resolve this situation to your satisfaction as quickly as possible. If we have all the information, we are able to offer a model with minor differences.
If you need more information do not hesitate to contact us.
MAAG Configuration code
​​TECHNICAL DATA
Technical data:

P-USG 100

P-USG 200
P-USG 300
P-USG 400
Operating width:

100 mm

200 mm
300 mm
400 mm
Power of pelletizer motor:
3-5.5 kW
5.5-11 kW
7.5-15 kW
11-18.5 kW
Line speed:
60-250 m/min
Cooling length:
2,000/3,000/4,000/6,000/8,000 mm
Process water system:
PWS 15
PWS 25
PWS 35
PWS 45
Process water fl ow rate:
7 m3 /h
10 m3 /h
15 m3 /h
20 m3 /h
Centrifugal dryer:
CENTRO 150
CENTRO 300
CENTRO 800
CENTRO 800
Maximum throughput rates [kg/h*]:
1,500
3,000
4,500
6,000
* depending on pellet weight and polymer