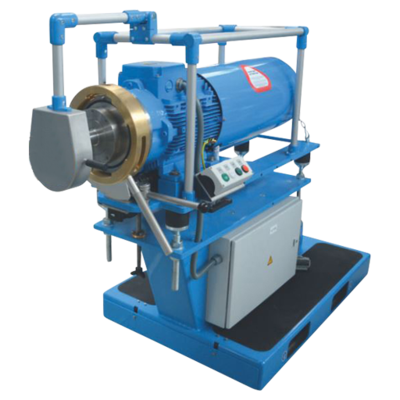 EAC
Electronically Adjustable Pelletizer
The EAC pelletizer for underwater pelletizing offers fully automated control of blade adjustment, positioning, and monitoring, resulting in maximum blade and die face life. Monitoring and adjustment processes are programmed in the Gala PLC controlled system. An optional integrated blade position measuring system for unterwater pelletizer is available, providing indication of blade position and warning of the need for a blade change.
Inquiry system
Configure your own product according to your requirements and needs. If you are unsure of the configuration, provide us in the notes the necessary information about the existing sensor or product, even a competitor. We will be happy to help you find an alternative MAAG products. If your request is urgent, let us know. We will do our best to help you resolve this situation to your satisfaction as quickly as possible. If we have all the information, we are able to offer a model with minor differences.
If you need more information do not hesitate to contact us.
Configuration code
​​TECHNICAL DATA
| | | |
| --- | --- | --- |
| | PELLETIZER MODEL | TYPICAL OUTPUT RATE (kg/h) |
| | 5 (LPU® System) | 2 - 100 |
| | 5 | 20 - 300 |
| | 6 | 50 - 1800 |
| | 7 | 500 - 6000 |
| | 12 | 2400 - 15 000 |
Range of applications Gala pelletizing systems are well-suited for the production of raw materials as well as for the manufacture of compounds, blends, masterbatches, and recyclates based on:
Polyolefi ns, e.g., LDPE, HDPE, PP
Styrene polymers, e.g., PS, SAN, ABS
Acrylic resins, e.g., PMMA, PAN
Polyacetals, e.g., POM
Polycarbonates, e.g., PC
Polyesters, e.g., PET, PBT, PEN
Polyamides, e.g., PA 6, PA 6.6, PA 11, PA 12
Thermoplastic elastomers, e.g., TPE-S, TPE-E
Polyurethanes, e.g., TPU
Hot-melt adhesives
Rubber
Natural and synthetic resins
Biopolymers, e.g. PLA, PHA, Bio-PA, BioPET, Bio-PP
Other plastics available upon request