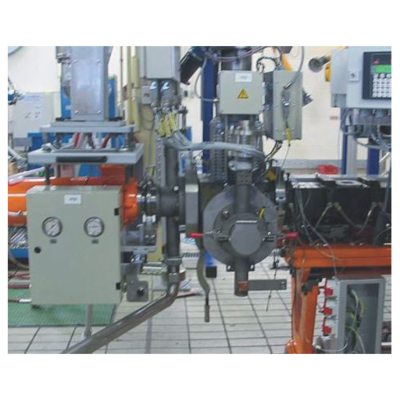 LWCP
Low Waste Continuous Production
The LWCP System concept was designed to allow the user to operate the production waste recycling machine on a continuous basis and to increase output without interruptions from a defined minimum throughput up to the maximum line throughput. Start-up waste is reduced to a minimum. The multidirectional polymer diverter valve has been integrated in the pelletizing process. This polymer diverter valve includes at least one further diverting option in addition to the already-known two diverting possibilities. It permits either a very fast changeover between two product flow directions or the sequential operation of several pelletizers connected to one and the same polymer diverter valve. Because of the "online" switchover of the running system, interruptions can be largely avoided, and with the appropriate selection of the two pelletizing heads, a very wide throughput range of the production machine has become possible.
Inquiry system
Configure your own product according to your requirements and needs. If you are unsure of the configuration, provide us in the notes the necessary information about the existing sensor or product, even a competitor. We will be happy to help you find an alternative MAAG products. If your request is urgent, let us know. We will do our best to help you resolve this situation to your satisfaction as quickly as possible. If we have all the information, we are able to offer a model with minor differences.
If you need more information do not hesitate to contact us.
Configuration code
ADVANTAGES
Lower costs for start-ups
Less material waste
Lower operating costs
Fewer line shutdowns for maintenance
Technical data
Throughput rate [kg/h]
4500