Extrex⁶ ER
Elastomeric processing requires positive displacement devices that gently convey high viscosity rubber through the system. The specific low-compression tooth design of the extrex⁶ ER extrusion gear pump enables transfer, booster, or metering gear pump applications to achieve both high pressure and low shear.
The rubber compound is conveyed with a constant, precise flow even at high discharge pressures – also for extremely dry or sticky compounds, where previous extrusion pump generations reached their limits due to scorch. Additionally, the constant high efficiency and long life span of the extrex⁶ ER extrusion gear pump are improved even more owing to reduced internal friction and achieve unrivaled high values.
Inquiry system
Configure your own product according to your requirements and needs. If you are unsure of the configuration, provide us in the notes the necessary information about the existing sensor or product, even a competitor. We will be happy to help you find an alternative MAAG products. If your request is urgent, let us know. We will do our best to help you resolve this situation to your satisfaction as quickly as possible. If we have all the information, we are able to offer a model with minor differences.
If you need more information do not hesitate to contact us.
Configuration code
Jan Šimurda Extrex⁶ ER Horní menu Produkty Maag Zubová čerpadla Úprava produktu Zobrazit na webu Omezit platnost Název Extrex⁶ ER Kód Cena 0.00 DPH Krátký popis Dlouhý popis Parametry Obrázek Extrusion gear pump for elastomers and rubber manufacturing with highest performance – extrex® RV/RB Popis produktu
​​TECHNICAL DATA
| | | |
| --- | --- | --- |
| | Viscosity [MPas] | 30000 Pas |
| | Temperature [°C] | max. 120 |
| | Throughput rate [kg/h] | 4,2 |
| | Pump size | 50/40 – 200/200 |
| | Housing | Alloy-/Carbon Steel -other material on request |
| | Gear shafts | Tool steel, special coatings |
| | Bearing | Tool steel / special materials |
| | Shaft seal | Viscoseal, Viscoseal temperature controlled |
| | Pump heating | Thermal water or oil |
| | Installation | The extrex® rubber gear pump can be flanged between extruder and extruder head as well screen changer or strainer heads |
SELECTION OF TYPICAL PUMPED MEDIA
| | |
| --- | --- |
| | Elastomers |
| | Silicone rubber |
| | Paints and varnishes |
| | Waxes and paraffins |
| | Mineral oils and fats |
| | Fuels |
| | Petrochemical products |
| | Lube oil |
OPTIONS
| | |
| --- | --- |
| | Set of rotary joints and fittings for fluid thermoregulation of shafts |
| | 4 sensor ports in body (2 standard) |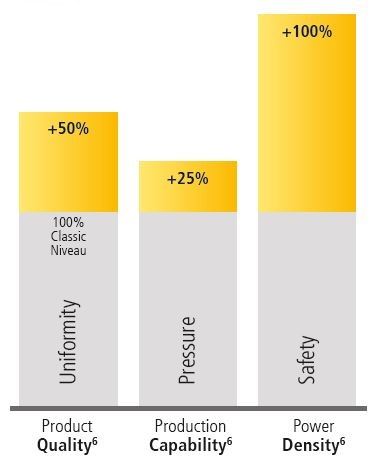 Production Capability6
Endurance Shaft Improved load capability to raise your differential pressure
Augmented Torque High torque to extend your differential pressure range
Power Density6
Thermal Mastery Efficient temperature management to enhance your process security
Process Reliability6
Dynamic Lubrication Increased impurity tolerance to secure your uptime
Balanced Bearings Unique self-centering shafts to maximize your process stability
Certifikáty produktu Zobrazit na hlavní straně v sekci Nejčtenější články Novinky a události Nejčtenější články Fotogalerie Formulář Soubory ke stažení Loga produktu A3AccreditedASTMASTM D1238ATEX EXBSIc RUS USc RUS US ULC-FM-APPROVEDC-FM-APPROVED-USCECLACloudCRNCRU USEACEAC EXEX ATEXEX NEPSIFM - APPROVEDFM C USIEC EXIEC EXIP 67ISOISO 1133ISO 17025ISO ALLISO CHINAISO LOGOISO USAMCNEMAPAPLCRoHSSASIL 2TUV CERTIFIEDULUL REDWifiWifi Související produkty Kontakty Historie operací © NETservis s.r.o. 2020