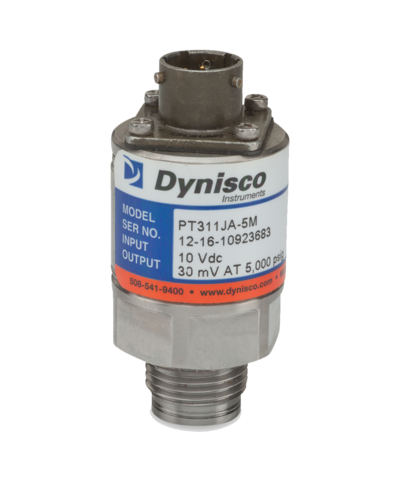 PT311JA Pressure sensor
The Dynisco PT311JA Washable Pressure Sensor is designed for applications requiring a zero volume pressure port. The recessed diaphragm improves the frequency response. The PT311JA has a full 3 mV / V output signal and offers reliable and accurate pressure measurement of gases, viscous liquids.
Inquiry system
Configure your own product according to your requirements and needs. If you are unsure of the configuration, provide us in the notes the necessary information about the existing sensor or product, even a competitor. We will be happy to help you find an alternative Dynisco product. If your request is urgent, let us know. We will do our best to help you resolve this situation to your satisfaction as quickly as possible. If we have all the information, we are able to offer a model with minor differences, which is in stock and you can have another product available the next day.
If you need more information do not hesitate to contact us.
Dynisco configuration code:
PERFORMANCE CHARACTERISTICS
| | | |
| --- | --- | --- |
| | Pressure range: | 0 - 15, až 0 - 10,000 psi |
| | Accuracy: | ± 0.5% FSO, (Including linearity, repeatability and hysteresis) |
| | Overload capacity: | 2x total range of the sensor |
| | Sensor diaphragm: | 17 - 4 PH stainless steel |
| | Sensor connection: | 3/4-16 UNF-3A1.125 |
| | Mounting torque: | 25 Nm - 55 Nm |
| | Pressure fuse: | with fuse 6 x total sensor range. max 3000 bar |
| | Sensor construction: | |
TEMPERATURE CHARACTERISTICS
| | | |
| --- | --- | --- |
| | Max. membrane temperature: | |
| | Compensated range: | |
| | ------------------------------------------- | ------------------------------------------------------------------ |
| | Zero shift (due to temperature): | ± 0,018% plný rozsah / ° C |
| | Range shift (due to temperature): | ± 0,036% plný rozsah / ° C |
ELECTRICAL CHARACTERISTICS
| | | |
| --- | --- | --- |
| | | 10 Vdc recommended, maximum 12 Vdc |
| | | |
| | Bridge resistance: | |
| | Connector: | 6 Bendix PIN connector |
| | Insulation resistance: | 1000 megohms @ 50 Vdc |
| | Resistance calibration (R-Cal): | 80% of duty. range ± 1.0% of the total range |
ROZMĚRY SNÍMAČE:

Certification & Approval
| | |
| --- | --- |
| | |
| | |
| | EAC - The Eurasian Conformity mark |
| | GOST Approval |
| | |
| | Safety Integrity Level - SIL2 |
| | |
| | |
| | |